First place and the first win for TCU. Five outstanding Educational Investment Fund students won the Southwest U.S. Research Challenge sponsored by the CFA® Institute.
February 28, 2020
By Elaine Cole
The TCU Neeley team of Connor Fragen, Madelyn Carlson, Reilly Cornell, Jake Lansford, and Dalton Standish took on 20 other teams from top universities throughout Texas and Louisiana – and came out on top. 
They won first place and CFA $1000 scholarships, and will now advance to the Americas Challenge in April in New York City, taking on other first-place teams from Canada, the United States and South America.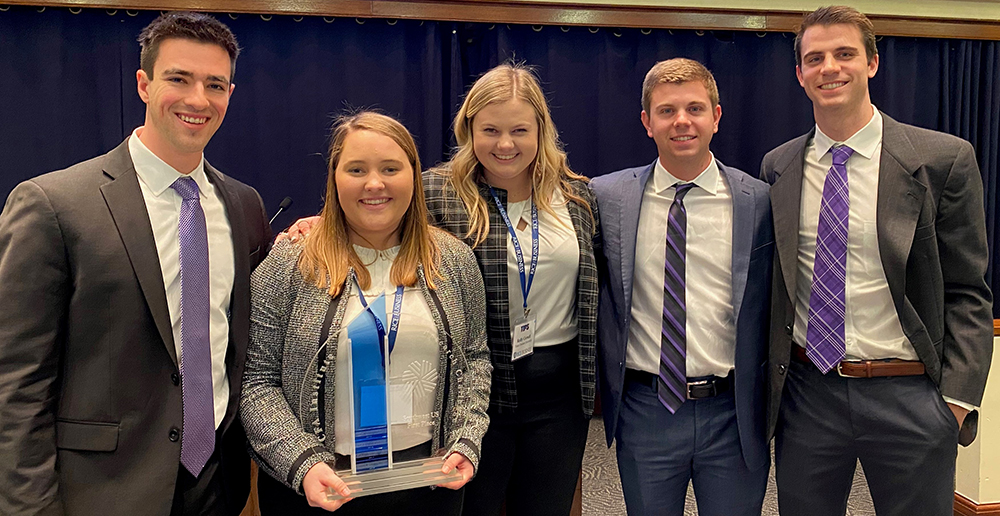 It was a long road to that winning finish. 
September 2019: 21 teams from throughout Texas and Louisiana started the Southwest U.S. Research Challenge organized by the CFA Institute.
Over the next several months, the TCU team attended webinars and conferred with faculty advisor Larry Lockwood, the Stan Block Endowed Professor of Finance, and industry mentor Jason Safran, Senior Asset Manager for TCU Investment Management. They wrote a comprehensive report on Cinemark Holdings, examining its industry and the drivers of company growth and risk. They prepared extensive valuations models to assess the financial health of the company – to estimate the intrinsic value for Cinemark's stock – and eventually made a "Buy" recommendation on the stock.
February 2020: 21 teams turned in their written reports. Eight finalists were chosen to advance to the challenge at the Texas Investment Portfolio Symposium held at Rice University. 
The finalists – TCU, Baylor, Rice, Texas A&M, University of Dallas, West Texas A&M, St. Mary's and Nicholls State – presented their buy, hold, or sell recommendations to industry professionals with decades of experience. 
TCU took the win for the first time in the challenge's history.
The team credits their TCU Neeley education and experience, and their teamwork, with their win. 
"Due to the experience and practice gained from TCU programs and classes, we conveyed our analysis in a clear and concise manner, which helped differentiate us from other schools," Standish said.
"Our different types of personalities brought a unique energy to the competition," Cornell said. "We worked well together and thought on our feet quickly to tackle any problems that arose, also making sure to enjoy ourselves along the way, which I think showed in our presentation."
"Winning was a big accomplishment because it is the first time a TCU team has won. We are grateful for the opportunity to contend against so many other highly competitive teams and are excited to take on the bigger challenge in the Big Apple to compete against other winning teams," said Carlson.
Dr. Lockwood, who also serves as the faculty advisor for the TCU Educational Investment Fund, said, "I am extremely proud of our students and their hard work and dedication. They represented TCU Neeley incredibly well."
The CFA Investment Research Challenge, sponsored by member societies of the CFA Institute, develops interest in securities analysis and the investment profession at top area business schools. Business and finance students research, write and present a report recommending a buy, sell or hold position on a publicly traded company. The challenge teaches best practices in research to the next generation of analysts and provides experience in a real-world setting. Regional competitions take place across the U.S. and around the world. Finalists from the U.S. competition compete in the Americas Challenge. Winners there compete in the Global Challenge.