The Certificate in Consultative Selling proved to be so popular that the Sales and Customer Insights Center expanded the program to all TCU students across campus.
April 06, 2020
By Elaine Cole
In fall 2019, the TCU Neeley Sales and Customer Insights Center began an undergraduate Certificate in Consultative Selling to complement any business student's primary major. The curriculum includes three sales courses – Foundations of Selling, Consultative Selling, and Sales Practicum – in a condensed format over two semesters. 
Today, 96 TCU Neeley students are enrolled and the first graduates are about to finish. These first students proved the certificate's effectiveness so well that the Center is now offering it to all TCU students and every major.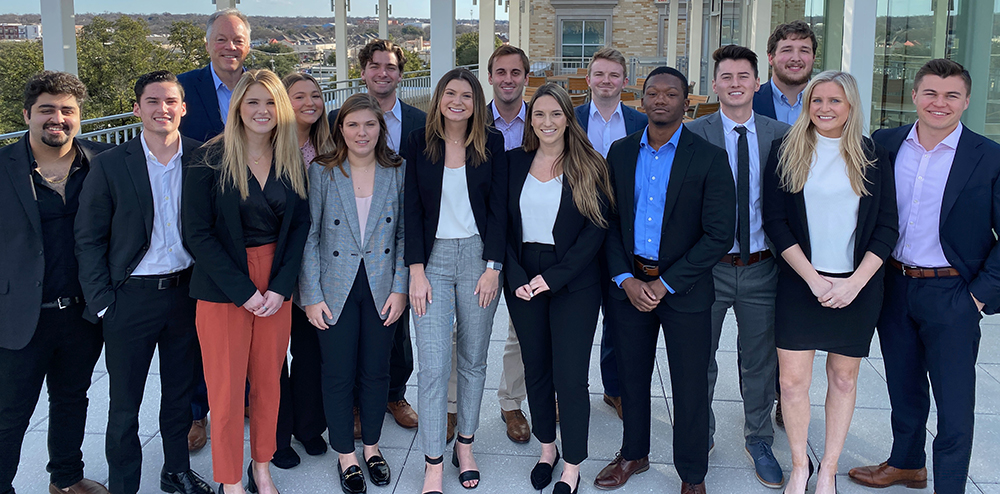 In the first week of remote education for the spring 2020 semester, 251 TCU students from all majors attended virtual info sessions that resulted in 43 applications. 
"Most careers involve selling in some way, yet many students don't learn professional selling techniques," said Zachary Hall, associate professor of marketing and director of operations for the Sales and Customer Insights Center. "We designed the certificate with a condensed format that allows students in any situation and any major to complete it."
Students learn to better understand and address the specific needs of their customers, no matter where their careers take them. They participate in Salesforce training; live selling; 100-plus hours of sales role play; quota setting and attainment; prospecting and more. 
"I decided to pursue the Consultative Sales Certificate because my mentor, Dr. Zachary Hall, challenged me to step outside of my comfort zone to experience the value of a sales career. I discovered that my passion for helping others, solving problems and connecting with people are important aspects of the selling process," said Amanda Boots, senior marketing major, who will start her career at Oracle NetSuite this summer. 
"When I began putting Consultative Sales Certificate on my resume, it was an immediate starter for valuable conversations with potential employers. It has given me a confidence that I haven't gained in the classroom or my previous jobs," said Gage Alexander, senior supply and value chain major. 
In Foundations of Selling, students sell seats to an event with the quota based on the quality or difficulty of the close: alumni, business community, family member or friend. On the April 16, 2020, there was a virtual event featuring TCU alumnus, NFL Super Bowl champion and author Clint Gresham.  
In Consultative Selling, students sell seats to a sales workshop for industry personnel. The collective goal is to sell 121 seats; each student has a minimum quota of three sales. On May 4, 2020, there was a virtual event, "Sales Enablement: Turning Strategy Into Results." 
Each student is given the title of Sales Associate to brandish on their LinkedIn and social profiles to help them in sales efforts and career building. 
The Sales Practicum course is only available to those pursuing the certificate. In this highly interactive course, students work with corporate partners through shadowing, role playing, corporate visits, executive talks and more.
Students who complete the certificate will have contacted more than 50 prospects, participated in more than 100 hours of role plays and live selling experiences, and interacted with multiple sales executives at leading companies. 
"The challenges, victories and failures I encountered helped me grow personally and professionally" Boots said. "There is power behind failure that has given me a newfound confidence."
Alexander, Boots and the other first students in the program are actively coaching and helping propel the next wave. 
"Being the first class to graduate from this program, my peers and I had the opportunity to set the tone. I can't wait to watch the development of the certificate program as time goes by," Alexander said.
For more information on the Certificate for Consultative Sales and about the TCU Neeley Sale and Customer Insights Center, click here.  
NOTE: For spring 2020, all classes, events, role playing, executive talks and live selling experiences moved seamlessly online.