Dr. Nelson is lauded among the top 50 most accomplished professors teaching undergraduate business in the United States, out of 900 nominations.
December 02, 2020
By Elaine Cole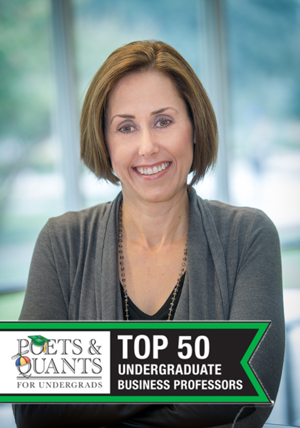 Karen Nelson, the M. J. Neeley Professor in Accounting at TCU Neeley, is among an exclusive list of top undergraduate business professors from leading business schools, chosen out of 900 submissions, in Poets & Quants Top 50 Undergraduate Business Programs 2020. She is the only professor from a Texas university included on the 2020 list.
Nelson was lauded for her "truly prolific" research, with more than 6,600 Google Scholar citations. She also received 14 nominations from former and current students. 
"In college I developed a love of learning, and as a professor I am able to share that every day," she says in the article.
What does she think makes her stand out as a professor? "I keep in mind that even though I have taught something many times, it is the student's first time seeing it. Most importantly, I let my passion for teaching and the subject matter shine through as an example for my students to enthusiastically pursue their own interests."
One student said: "Professor Nelson taught the most technical accounting class that we take as undergraduates, yet she did it with grace, encouragement and confidence. In the midst of a global pandemic she provided a sense of support and availability that allowed me to walk into my tests with assurance and capability, while also using her time to do research. She still made the effort to get to know me even after in-person classes were cancelled. Simply put, she is the most put together professor I have had during my undergraduate education and deserves this nomination."
Nelson's in-depth profile features her latest research, biggest challenges, fun facts and memorable moments from her teaching career.
View Karen Nelson's Top 50 Undergraduate Business Professor profile here.
View the complete list of Top 50 Undergraduate Business Professors at poetsandquantsforundergrads.com.