TCU Neeley Associate Professor of Marketing receives special honor from AMA and the Marketing Science Institute for her research on the impacts of corporate sociopolitical activism.
May 06, 2021
By Nicholas Ferrandino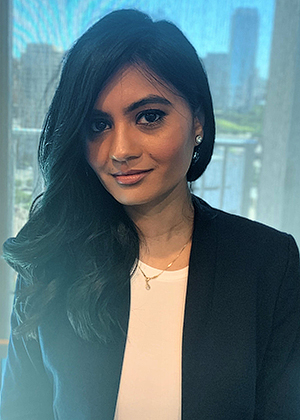 Yashoda Bhagwat, recently tenured associate professor of marketing at the TCU Neeley School of Business, won the 2020 H. Paul Root Award for her research paper "Corporate Sociopolitical Activism and Firm Value."
The H. Paul Root award was created by the American Marketing Association and the Marketing Science Institute to recognize once a year a paper published in the Journal of Marketing that has made the greatest contribution to marketing practice during that year. Contestants for the award include established professors and experts from across the nation.
The article was also nominated for the Hunt Maynard Award, another accolade of similar merit from the AMA given to the article with the best marketing theory.
"It is really exciting to see the paper get recognized for its contributions to both practice and theory." Bhagwat said.
Bhagwat's paper, "Corporate Sociopolitical Activism and Firm Value," studies the growing trend of political involvement from corporations across the nation. The study explores in detail how a company's corporate sociopolitical activism impacts its relationship with consumers and stakeholders.
Bhagwat first had the idea to study this topic when she recognized a rising frequency of prominent brand names making headlines for their stance on divisive political issues. Although companies have always sought to curry favor from consumers through eco-friendly practices or quality-of-life improvements for employees, entire corporations voicing their opinion on controversial subjects such as abortion or gun control is a much more recent development.
"We look at the financial implications of these actions, and what happens to their stock price as well as their future sales," Bhagwat said. "Usually, companies don't like to make public stances on divisive political issues. You're going to have people who disagree with you, so why would you want to take the chance of alienating your customers?"
Depending on their actions and how they align with their stakeholders, this increase in political activism has a tangible impact – often negative but on occasion positive – on a corporation's bottom line. And based on the evidence, this is a trend that will only become more influential to the market in the future.
The team that worked alongside Bhagwat, all of whom were assistant professors when they first began work on the paper, included Professor Nooshin L. Warren at the University of Alabama, Professor Joshua T. Beck at the University of Oregon, and Professor George F. Watson, IV at Portland State University.
The four professors met during various doctoral consortiums while they were working toward their PhDs and stayed in contact even after moving to different universities. When Bhagwat first had the idea to work on this paper, she reached out to her pre-doctorate friends whom she knew would also be interested in the subject.
"We decided to take a chance on this paper because we found it to be an interesting topic," Bhagwat said. "And now I think we are co-authors and friends for life."