We hacked the brains of Horned Frogs all across campus, and they collaborated with winning ideas to address mental health in response to the COVID-19 pandemic.
May 01, 2020
By Elaine Cole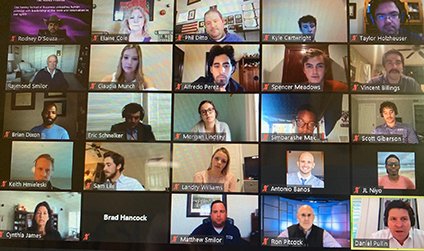 Innovation? Check. Creativity? Check. Leadership? Check. Entrepreneurship? Check. The first Horned Frog Brain Hack brought together 31 TCU students from all across campus to showcase their brain power, teamwork, intelligence and ingenuity.
The Neeley Institute for Entrepreneurship and Innovation implemented the Horned Frog Brain Hack after students in managing director Rodney D'Souza's class told him they were looking for opportunities to make a difference during the pandemic. 
D'Souza was familiar with hackathons and startup weekend programs that help get ideas validated. He took those principles and merged them to create the Horned Frog Brain Hack for TCU students.
The Challenge: address the shortage of mental health workers to help the more than 50 percent of the population predicted to have depression, anxiety or PTSD as a result of the COVID-19 pandemic. 
The Brains: More than 30 students from six colleges across TCU – plus a few from other universities – signed up for the week-long event. Students came from the Neeley School of Business, Addran College of Liberal Arts, College of Science and Engineering, John V. Roach Honors College, College of Education, and Harris College of Nursing and Health Sciences.
The Format:
Monday: Dr. Brian Dixon, psychiatrist, entrepreneur and associate professor at the TCU and UNTHSC School of Medicine, delivered a webinar on the "State of Mental Health During COVID-19 and Beyond."
Tuesday: Shannon Younger, assistant professor of entrepreneurship, held a workshop offering tips for ideation and presentation. 
Wednesday: Hayden Blackburn, executive director of Tech Fort Worth, presented a webinar on "Customer Discovery and Idea Validation." 
Wednesday evening: Students presented their ideas to each other, everyone voted on the top four, and then formed teams around those four ideas. 
Thursday: Teams worked with community and faculty mentors to validate their ideas.
Friday: Pitch Day. Each team presented their ideas in five minutes (in a virtual setting) to judges to win cash prizes. Judges had five minutes to ask questions of each team. 
The Winners:
First Place ($400): Support Network for Mental Health Professionals, to close the gap between the productivity and loneliness of individual practice. Team members were Claudia Munch (managing people and organizations), Taylor Holzheuser (entrepreneurship), Kyle Cartwright (marketing), and Eric Schrelker (computer science at the University of Tulsa). 
"I loved working with both students and mentors to develop ideas that we are passionate about. It was a great opportunity to think about ways to help those around us during this crisis," Munch said. 
Second Place ($300): Quick Aid, an online platform to break down the barriers to triaging and treating mental health issues. Team members were Sam Lile (business information systems), Phil Ditto (anthropology) and Simbarashe Maketa (pre-business).
"It was awesome to work with other students in other areas, and see so many different perspectives merge to change lives," Ditto said. 
Third Place ($200): Counseling Connect, providing community and counseling through a web-based group Cognitive Behavioral Therapy platform. Team members were Morgan Lindsey (child development/pre-med), Landry Williams (nursing), JL Niyo (English), and Scott Giberson (psychology/pre-med). 
"I don't have business experience so this was like a crash course," Giberson said. "I enjoyed seeing the different lines of thinking." 
Fourth Place ($100): Converse, an app that offers meaningful conversation for people with the same interests to lessen loneliness. Team members were Alfredo Perez (computer science), Vincent Billings (entrepreneurship) and Spencer Meadows (entrepreneurship). 
"It was cool to see others as passionate as I am about this issue," Meadows said. 
"The Horned Frog Brain Hack came about because students were telling me how the pandemic has them frustrated due to lack of control, while also feeling that they can help but don't know how. With issues like masks and malaria drugs capturing all the headlines, there was a feeling that other issues might be ignored, including mental health. We put together this program and were excited at the enthusiasm of the participants, the caliber of their ideas, and the willingness of faculty and community mentors to help," D'Souza said. 
Special thanks to:
Judges
Daniel Pullin, John V. Roach Dean of the Neeley School of Business
Stuart Flynn, Dean of the TCU and UNTHSC School of Medicine
Christopher Watts, Dean of the Harris College of Nursing and Health Sciences
Ronald Pitcock, Acting Dean of the John V. Roach Honors College
Sonja Watson, Dean of the AddRan College of Liberal Arts
Mentors
Anastasia Taylor, Founder and CEO of Alliance of Child and Family Solutions
Wayne Martin, LCSW, Psychophysiologist
Ken Hopper, MD, Associate Professor at TCU and UNTHSC School of Medicine
Debra Atkisson MD, Child Development Coach at TCU and UNTHSC School of Medicine
Keith Hmieleski, PhD, Robert and Edith Schumacher Faculty Fellow, Professor of Entrepreneurship, TCU Neeley School of Business
Michael Sherrod, William M. Dickey Entrepreneur-in-Residence, TCU Neeley School of Business
Matt Smilor, Director of the Values and Ventures Program for the TCU Neeley Institute for Entrepreneurship and Innovation
Antonio Banos, Assistant Director for the TCU Neeley Institute for Entrepreneurship and Innovation