Management Professor Hettie Richardson steps up to oversee undergraduate programs at the TCU Neeley School of Business.
August 07, 2019
By Elaine Cole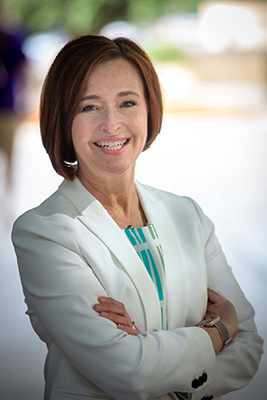 As Interim Associate Dean for Undergraduate Programs, Management Professor Hettie Richardson will oversee all TCU Neeley undergraduate programs while a search is conducted for the permanent position. Ray Pfeiffer, who formerly held the associate dean role, has moved to Simmons University in Boston. 
Richardson joined TCU Neeley in 2013 and served as chair of the Department of Management and Leadership since arriving. She teaches courses in leadership and cross-cultural management, human resource management and organizational behavior. 
"Dr. Richardson is committed to student success, curricular innovation, leadership preparation, and an environment that celebrates a diversity of people and ideas. These attributes are an ideal fit for her new leadership position at TCU Neeley," said Daniel Pullin, the John V. Roach Dean of the TCU Neeley School of Business. 
Richardson was recently honored by the Southern Management Association as an SMA Fellow, based on her scholarly achievements and significant leadership service to the association. Her award-winning research covers employee empowerment, knowledge-sharing and collaboration in organizations, the alignment and pursuit of organization and employee goals, and strategic human resource management. Her research has been published in highly respected journals, and she is associate editor for Group and Organization Management. She also serves on the editorial boards of Academy of Management Review, Journal of Applied Psychology, Journal of Management, Organizational Research Methods and International Journal of Human Resource Management. 
Beyond the classroom, Richardson provides managerial training for corporations, organizations and industries on leadership, motivation, and reward and compensation design. She is frequently called upon for consulting services related to employee involvement, engagement and well-being, leadership, and performance management.
She holds an MA in Sociology and PhD in Business Administration from the University of Georgia.