Values and Ventures is second in the nation based on the strength of TCU Neeley's entrepreneurship program and entrepreneurial ecosystem to support students in college and after graduation.
December 14, 2020
By Elaine Cole
Famous entrepreneurs are the new rock stars, and college students look to them and their successes as inspiration for their own ideas. TCU's Richards Barrentine Values and Ventures Competition takes their enthusiasm and interest to another level by inviting collegiate entrepreneurs from 56 universities to pitch their ideas for $225K in cash awards and a year of mentorship, webinars and advice.
In the ranking by the new publication, Times of Entrepreneurship, based on cash prizes, in-kind support and total participants, the annual Values and Ventures Competition is among the best and largest entrepreneurship competitions in the nation.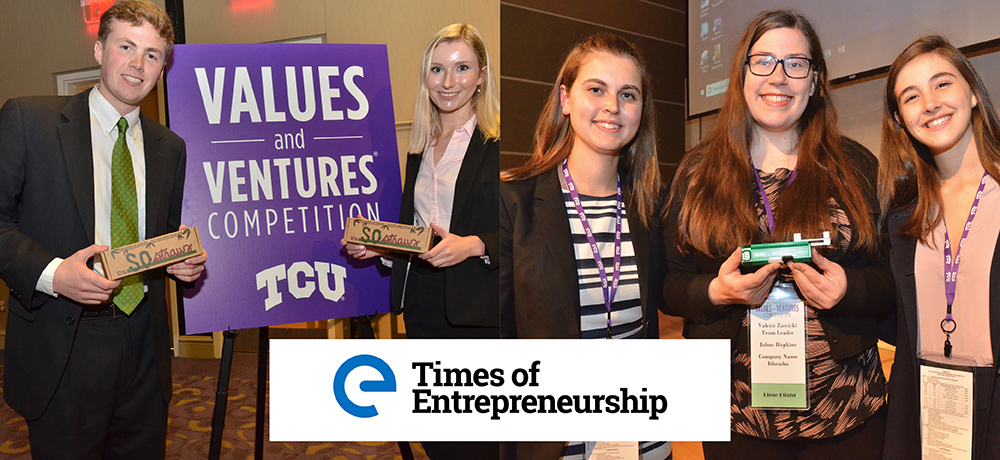 Values and Ventures came in a very close second behind MIT's Entrepreneurship Competition. Another popular TCU-only competition, CREATE, powered by the Shaddock Fund, is ranked No. 11.
That makes TCU the only university with two competitions in the top 20 rankings. Both are presented by the TCU Neeley Institute for Entrepreneurship and Innovation.
See the entire Top 20 U.S. University Entrepreneurship Competitions here.