The interdisciplinary collaboration provides new opportunities for the TCU Energy Institute to grow and evolve in its important role for students, faculty and energy professionals.
March 02, 2021
By Elaine Cole and Andrea Stafford
The TCU Energy Institute, a vital resource for students, faculty and professionals for more than a decade, is transitioning from the College of Science & Engineering to the Neeley School of Business. Administration of the energy certificate, energy minor, scholarships and internships will move to the Neeley School. The CSE will provide expertise in geology, environmental sciences and engineering.
Ann Bluntzer, associate professor of professional practice in management and leadership will serve as the institute's acting director. Dr. Bluntzer is program director for the TCU Energy MBA and has served on the TCU Energy Institute board since 2013. She has taught Geopolitics of Energy, Energy in the 21st Century, and Renewable Energy Viability at the Neeley School for the past eight years.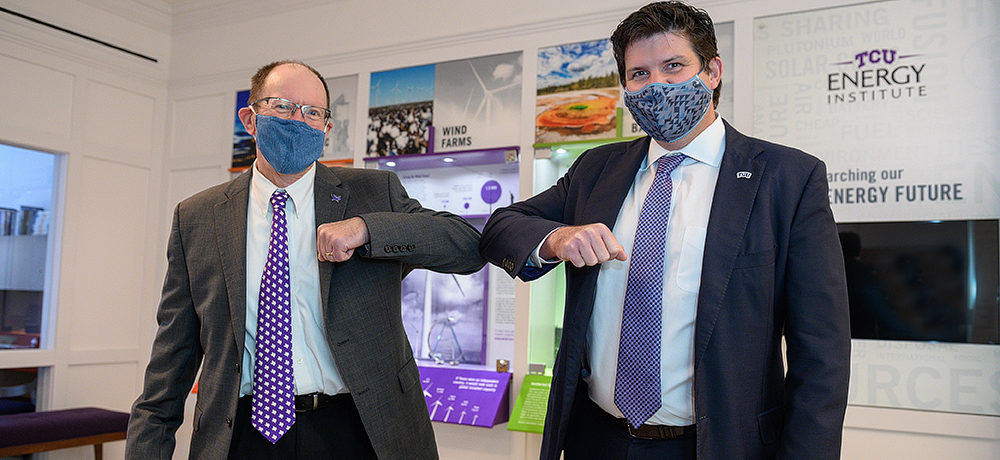 "The TCU Energy Institute will continue to be a place for interdisciplinary partnerships, connections and expertise as it steps into a new chapter of preparing leaders in energy," said Daniel Pullin, the John V. Roach Dean of the Neeley School of Business. "The institute is a perfect fit for the Neeley School of Business since our reputation among industry professionals is strong. Our TCU Energy MBA is ranked #2 in the nation by Oil & Gas Investor. Our partnerships with NAPE, where we host the National MBA Energy Case Competition in conjunction with the annual NAPE Summit, will add global partnerships and connections to the TCU Energy Institute. As a result, this advancement further enhances TCU's academic profile and opens new doors for both undergraduate and graduate students."
TCU students minoring in energy will be able to sharpen their business acumen, practice business skills and leverage business networks to increase their career success. For graduate students and industry professionals who want to advance their careers, the Neeley School is planning a Certificate in Sustainable Energy.
"This new certificate will provide graduate students and young professionals with expertise in the fast-moving and dynamic energy landscape as companies advance their course on issues pertaining to the environment, sustainability and government," Pullin said.
"This collaboration will further develop the interdisciplinary efforts of the Energy Institute's programs and activities," said Phil Hartman, Dean of the College of Science & Engineering. "I am grateful for the exceptional leadership of Richard Denne, and to his predecessor Ken Morgan, who helped found and guide the Energy Institute. I look forward to this new relationship and an exciting future."  
Larry Brogdon, a long-time member of the board of the TCU Energy Institute, applauded the move. "Over the years I have seen the TCU Energy Institute successfully grow and evolve. I am excited to see how this next chapter will bring new opportunities to our students," he said.
The Neeley School of Business is home to several successful centers and institutes that connect students and faculty with industry professionals, including the Institute for Entrepreneurship and Innovation, TCU Sales Center, LKCM Center for Financial Studies and the Center for Supply Chain Innovation.