With 2021 average first-year earnings of $73,488, the TCU Neeley School of Business ranked No. 9 in the U.S. on Poets&Quants for Undergrads' national listing of Business Schools With the Highest Salaries.
May 10, 2022
By Rachel Stowe Master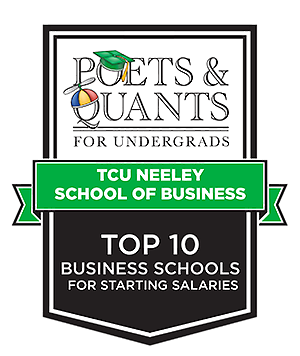 Poets&Quants for Undergrads, a leading news website dedicated to the coverage of undergraduate business education, ranks the TCU Neeley School of Business among the top 10 B-schools for starting salaries. Average first-year earnings of $73,488 for 2021 graduates placed TCU Neeley No. 9 on Poets&Quants' national listing of Business Schools With the Highest Salaries — and first in Texas. This represents a rise of 3.28% from $71,157 for the class of 2020.
Graduates of the University of Pennsylvania's Wharton School led the ranking with an average starting salary of $85,345, followed by graduates of Georgetown University's McDonough School of Business, New York University's Stern School of Business, Cornell University's SC Johnson College of Business, Carnegie Mellon University's Tepper School of Business, University of Virginia's McIntire School of Commerce, University of Michigan's Ross School of Business, Washington University in St. Louis' Olin Business School and Southern Methodist University's Cox School of Business.
"This exceptional ranking is a direct reflection of how the market values our product — our graduates. These results are national recognition that our students are receiving a top 10 education based on what employers are willing to pay for TCU Neeley talent. It's also confirmation to students and parents that TCU Neeley graduates are receiving a high return for their investment," said Daniel Pullin, John V. Roach Dean of the TCU Neeley School of Business.
This is the first time TCU Neeley has broken into the top 10 of the salary ranking, which Poets&Quants has been doing for the past several years.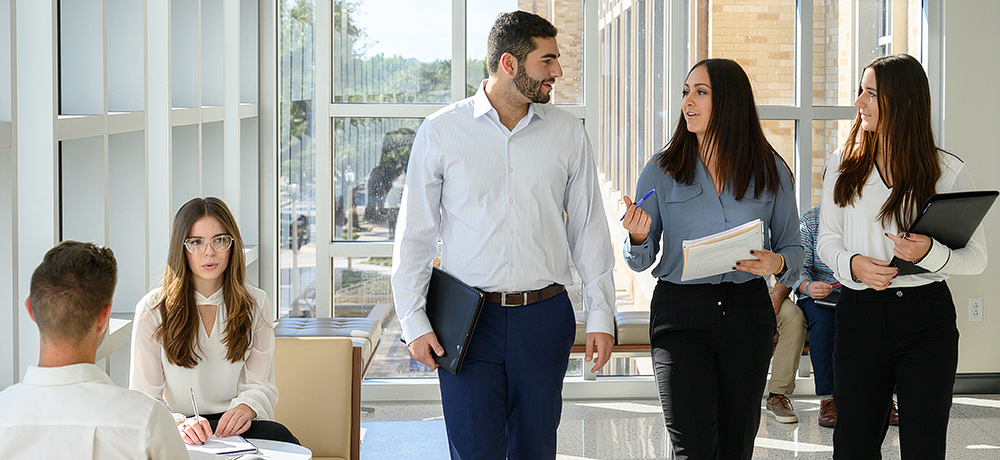 "What's exciting about us breaking into the top 10 is that we are a non-coastal, smaller school comparatively. It is a unbiased way of validating that our graduates can and do compete with the best students from across the country," said Jessica Cates, senior director of graduate student success at TCU Neeley.
Cates attributes the rising average of starting salaries to TCU Neeley graduates increasingly landing lucrative jobs in financial services, consulting and technology sales.
Since the 2014 founding of the Transaction and Investment Professionals Board, a TCU alumni-driven mentoring program, the Neeley School's average annual student placement total in investment banking, equity research, private equity and hedge funds has tripled.
"Our increase of student placements in financial services — specifically investment banking and private equity — is driving up our salaries because those jobs are so high paying. More students are also going into consulting and technology sales. So the success of the TCU Sales Center has added to those higher starting salaries as well," Cates said.
TCU Neeley's undergraduate Certificate in Consultative Sales program boasts a 100% job placement rate and $83,000-plus average first-year compensation (salary plus expected variable compensation for 2021 graduates).
TCU Neeley's high ranking for starting salaries is also a positive reflection on the North Texas labor market.
"Historically those really high salaries and placement statistics come from the coastal schools. Most of our graduates stay in North Texas, so TCU Neeley making it into the top 10 signals to companies across the country that North Texas is a market that, from an economics standpoint, can play in the sandbox with the New Yorks and the Silicon Valleys of the world and win," Cates said.
Poets&Quants, the go-to industry thought leader for all things related to business schools, also recently named TCU Neeley among the Top 10 Undergraduate Business Schools to Watch in 2022 and the Top 20 rankings for undergraduate business schools nationally.
Find Poets&Quants' full "Starting Salaries & Bonuses For Business Majors in 2021" article here.
Top 10 Business Schools with the Highest Salaries in the Nation
| P&Q Rank | School | 2021 Salary | 2020 Salary | % Change |
| --- | --- | --- | --- | --- |
| 1 | University of Pennsylvania (Wharton) | $85,345 | $86,217 | -1.01% |
| 2 | Georgetown University (McDonough) | $85,213 | $78,016 | 9.23% |
| 7 | New York University (Stern) | $81,669 | $80,064 | 2.00% |
| 16 | Cornell University (Dyson SC Johnson) | $79,777 | $76,827 | 3.84% |
| 83 | Carnegie Mellon University (Tepper) | $79,385 | $81,526 | -2.63% |
| 5 | University of Virginia (McIntire) | $77,926 | $81,930 | -4.89% |
| 6 | University of Michigan (Ross) | $76,295 | $77,777 | -1.91% |
| 4 | Washington University in St. Louis (Olin) | $75,539 | $76,183 | -0.85% |
| 19 | Texas Christian University (Neeley) | $73,488 | $71,157 | 3.28% |
| 23 | Southern Methodist University (Cox) | $73,054 | $67,491 | 8.24% |
Source: Poets&Quants For Undergrads