An app that replaces expensive hearing aids for the millions who can't afford them won first place in the TCU Values and Ventures competition, to advance to the global competition in April.
February 28, 2019
By Elaine Cole
In one of the most impressive displays of entrepreneurial endeavors since the competition began nine years ago, five teams of TCU students presented their ideas for conscious capitalism ventures in a bid to represent TCU at the global Values and Ventures® competition in April. 
"We were impressed with the caliber of venture ideas presented this year. They were all well thought out, viable, values-based business ideas. It was a difficult decision for the judges," said Rodney D'Souza, managing director of the TCU Neeley Institute for Entrepreneurship and Innovation (formerly the Neeley entrepreneurship Center).
First place and $500 was awarded to the TCU team of Mavis Tang, Devan Peplow and Maddie Kingsbury for Distinct Sound, an app designed by Dr. Liran Ma, associate professor of computer science at TCU, to help people with hearing loss. The app breaks apart sounds and then pieces them back together to produce the desired sound in less than 50 milliseconds, allowing the user to hear in real time. The target market is the 70 percent of people in the world who cannot afford hearing aids.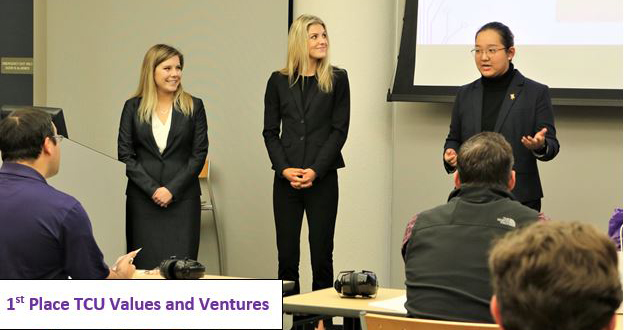 Second Place and $300 was awarded to the TCU team of Charlie McKee and Peter Nagel for Adaptafit, magnetic strips sewn into clothing to replace buttons and make it adaptable for people with limited mobility due to Parkinson's, Cerebral Palsy, Arthritis, MS and other conditions. The magnetic strips help take the frustration out of getting dressed to restore independence and increase confidence.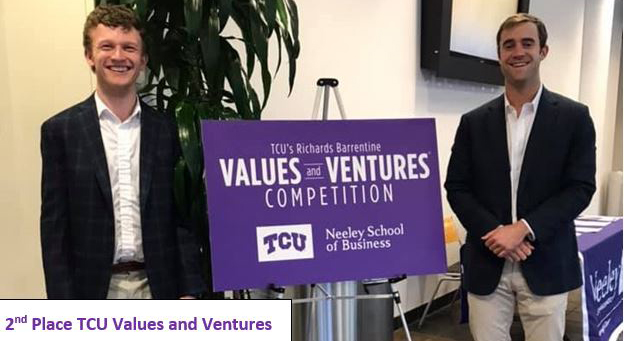 Third Place and $200 was awarded to the TCU team of Austin Ngo, Eric Ngo and Noah McLain for BirdNest, which produces sturdy, environmentally-friendly straws made from Lepironia grass grown in Vietnam, to replace plastic straws which harm the environment and paper straws which don't stand up to use.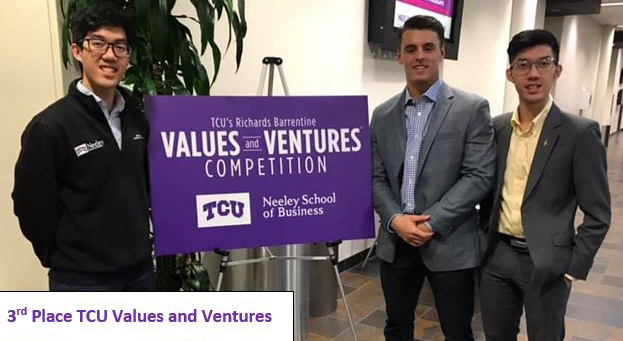 Honorable Mention went to Madison Hoy for The Genius Project, an arts accelerator providing college-age arts students with vital funding for projects, and Taylor Holzheuser for Perfect Bag, which employs veterans to create durable, custom backpacks for frequent travelers. 
Judges for the TCU student competition were Ray Smilor, emeritus professor of entrepreneurship at TCU Neeley; Mike Field EMBA '14, chief strategy officer for Catalyst Partners and Agile Management Enterprises; and Dustin Dvorak EMBA '15, chief information officer for Catalyst Partners and Agile Management Enterprises. 
The Distinct Sound team will advance to TCU's Richards Barrentine Values and Ventures® Competition, April 5-6, 2019, to represent TCU among 56 universities from around the world. 
Matt Smilor, director of the Values and Ventures® program at TCU Neeley, received more than 130 applications from 76 universities across the United States, plus Scotland, Canada, Nigeria, Poland and Bangladesh. The 56 chosen teams will compete at TCU for more than $100,000 in cash awards plus in-kind prizes.