Biodegradable alternative to plasticware. Eco-friendly on-the-go baby bottle. A hearing aid app. These are the top three winners of the TCU Neeley Institute for Entrepreneurship and Innovation's 2019 Values and Ventures® Competition.
April 07, 2019
By Elaine Cole
When college students from 56 universities come to TCU for the annual Richards Barrentine Values and Ventures® Competition, they bring their hearts as well as their smarts. 
Hundreds of college students from around the world pitched ideas for socially conscious businesses in the two-day competition, April 5-6, 2019. More than 50 entrepreneurs, investors and bankers served as judges, including finals judge John Henry, host of "Hustle" and honored as Forbes 30 Under 30 entrepreneur.
In a close, inspiring competition, nine winners were chosen out of 56, plus two special awards and six awards for the Elevator Pitch. 
Grand Prize, $40,000: American University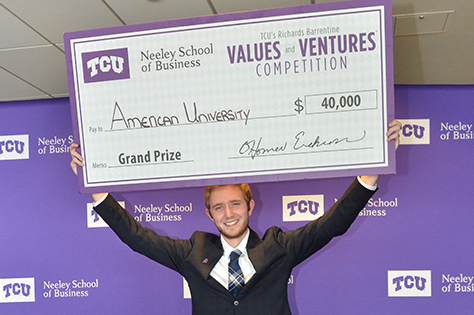 The team from American University won the grand prize for Celise, which produces biodegradable alternatives to plasticware and straws made with cornstarch and almost identical in feel and performance as plastic.
Pointing out that there 56,000 pounds of plastic waste were produced this year alone, American University student Cameron Ross told the judges: "While we can't solve the problem, we can manage it," with Celise's cornstarch products. The company donates 5 percent of profits to composting in developing countries. 
Second Place, $25,000: University of New Mexico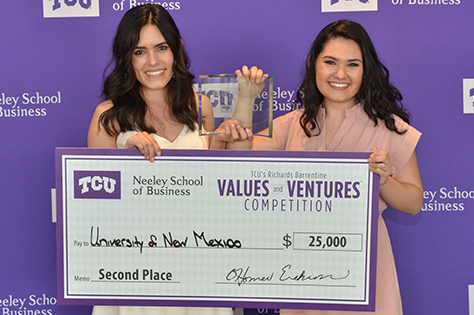 The sister team from the University of New Mexico won for EasyFlo, founded by Alissa Chavez, an affordable bottle to eliminate the hassle of mixing bottles on the go and reduce waste from the 60 million plastic baby bottles sold annually. The company offers a give-and-get program for people to donate bottles. 
Third Place, $15,000: Texas Christian University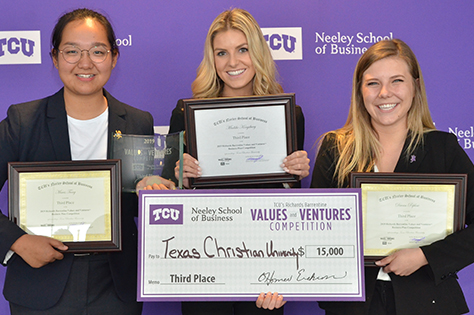 The hometown team from TCU won for Sounde, a hearing app developed by a TCU science and engineering professor with a proprietary algorithm that breaks apart sounds and pieces them back together so only certain frequencies are heard, according to a person's hearing prescription. The app performs in milliseconds so the person hears in real time. The app is aimed at the 49 million people in the United States who suffer from hearing loss.  
Honorable Mention, $2,500: Johns Hopkins University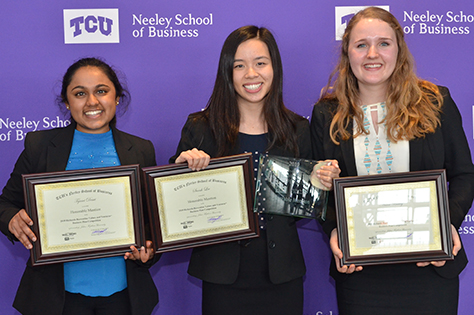 Relavo uses PeritoneX technology for a novel disinfecting system that reduces the risk of infection for patients using at-home dialysis.  
Honorable Mention, $2,500: Loyola Marymount University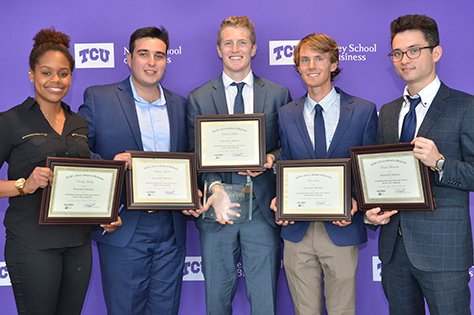 MobieDock, solar-powered charging and docking stations for e-scooters, reduces clutter while providing sustainable charging. 
Honorable Mention, $2,500: University of Houston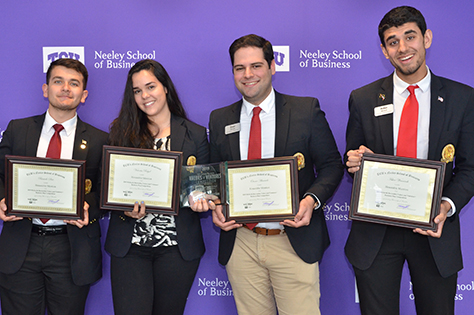 AquaFix Solutions uses a NASA-patented chemical solution to increase water recovery in desalination plants.
Honorable Mention, $2,500: University of Texas at Austin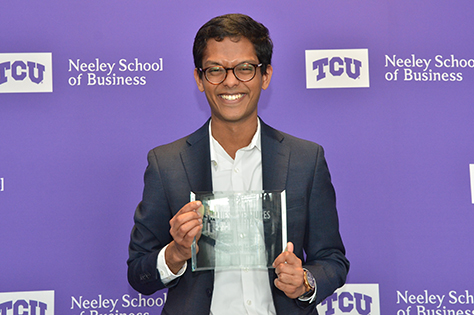 Sun Co. Tracking produces lightweight, affordable, non-electric solar trackers powered by memory shape alloys for home solar panels to track the sun more efficiently. 
Honorable Mention, $2,500: George Washington University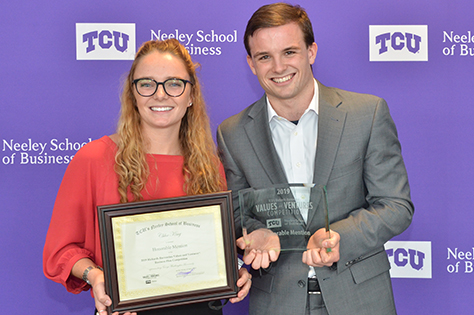 Last Call is an online platform for restaurants to discount and re-sell surplus food at a low cost, to reduce waste and provide affordable meals. 
Honorable Mention, $2,500: Auburn University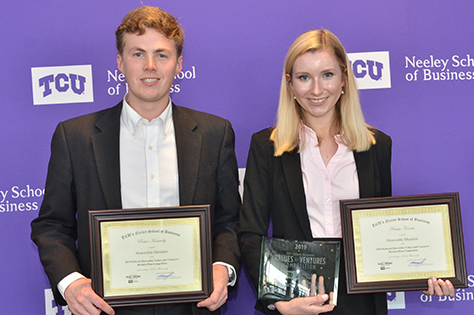 SOstraws are premium, affordable, reinforced paper straws that resist sogginess. 
Founders Award, $5,000: San Diego State University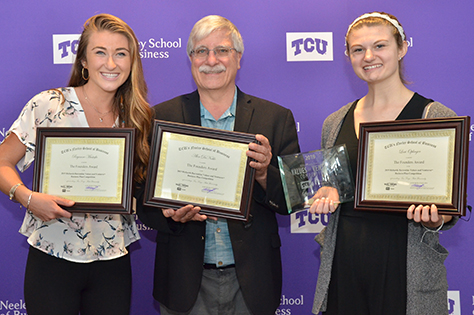 SOULMUCH rescues thousands of pounds of unused rice from restaurants and converts it into flour for delicious cookies. The winner was chosen by the competition's co-founders, Nancy Tartaglino Richards and Lisa Barrentine, Dallas real estate entrepreneurs. 
Elevator Pitch First Place $1,250 and the Marjorie and James Sly Innovation Award $2,500: California Polytechnic State University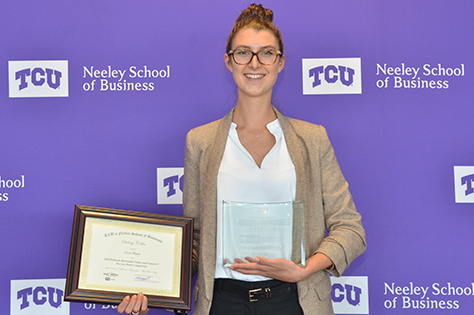 De Oro Devices produces Gaitway, the first retrofit solution that attaches to any cane/walker to prevent freezing of gait for people with Parkinson's. 
Elevator Pitch Second Place, $750: Michigan State University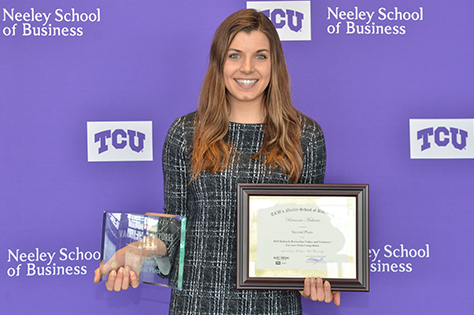 BRITE Bites is an all-natural probiotic snack. 
Elevator Pitch Third Place, $500: University of California-Irvine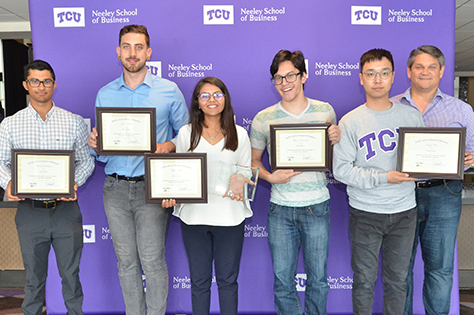 CenSyn Pen is a pocket-sized EEG pen to quickly assess brain damage at the scene of accidents. 
Elevator Pitch Honorable Mention, $250: University of Strathclyde (Scotland)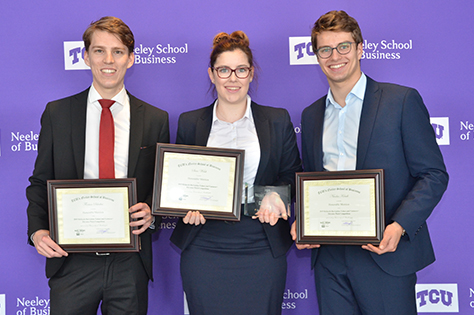 Tremodent is a toothbrush that uses motion stability technology to enable people with Parkinson's to brush their teeth.
Elevator Pitch Honorable Mention $250: Bangladesh University of Professionals (Bangladesh)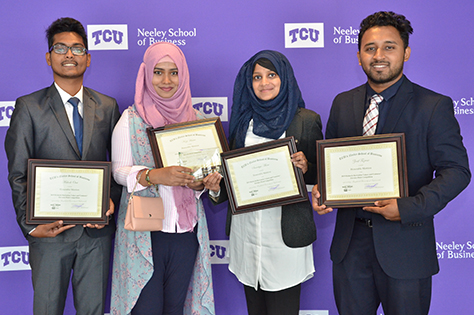 Prothoma produces reusable sanitary napkins that are antimicrobial, high-absorbing and comfortable, to reduce disease and infertility from women in the lower socio-economic pyramid. 
Elevator Pitch Honorable Mention $250: University of the Incarnate Word (San Antonio)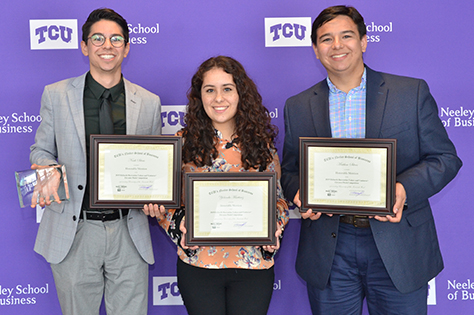 Sinzuca Chocolates uses a dark chocolate bark that is organic, sugar-free, gluten-free and vegan.
This is the ninth year for TCU's Richards Barrentine Values and Ventures® Competition, presented by the TCU Neeley Institute for Entrepreneurship and Innovation in the TCU Neeley School of Business and co-founded by Dallas real estate and technology entrepreneurs Nancy Tartaglino Richards and Lisa Barrentine of First Preston HT. 
2019 participating schools
American University
Auburn University
Babson College
Bangladesh University of Professionals
Brigham Young University
California Lutheran University
California Polytechnic University-San Luis Obispo
California State University-San Bernardino
Federal University of Technology, Nigeria
Ferris State Univ/Kendall College of Art and Design
Fort Hays State University
George Washington University
Georgia Institute of Technology
Grand Valley State University
Iowa State University
Johns Hopkins University
Lake Forest University
Loyola Marymount University
Miami University of Ohio
Michigan State University
New Jersey Institute of Technology
Northern Kentucky University
Northwestern University
Oklahoma State University
Quinnipiac University
Saint Leo University
San Diego State University
Southern Methodist University 

St. Mary's University
Syracuse University
Texas A&M University
Texas Christian University 
United States Air Force Academy 
University of Arkansas
University of California-Irvine
University of Delaware
University of Florida
University of Houston 
University of Illinois at Urbana-Champaign 
University of Missouri-Kansas City
University of New Mexico
University of Oregon
University of Pennsylvania
University of Strathclyde, Scotland
University of Texas at Austin
University of Texas at Dallas
University of Incarnate Word
University of Virginia
University of Waterloo, Canada
University of Wisconsin-Whitewater
Walsh University
Warsaw School of Economics, Poland
Wartburg College
Washburn University
Washington University in St. Louis
West Virginia University
For more information: www.neeley.tcu.edu/vandv.