TCU's Neeley Analytics Initiative brought together scholars from around the world for its inaugural conference, taking a deep dive into the future of data and analytics in the health care industry.
April 25, 2022
By Erin Smutz and Nicholas Ferrandino
The Neeley Analytics Initiative (NAI) at the TCU Neeley School of Business hosted its inaugural Data and Analytics in Health Care Conference March 25-26, 2022. The conference welcomed academic scholars and industry experts from across the globe to help propel TCU students, alumni, researchers, local entrepreneurs and businesses toward better understanding and improved decision making in an increasingly data-driven marketplace.
In 2020, the TCU Neeley launched NAI as a campuswide strategic effort to advance research, teaching and outreach in the critical areas of data and analytics, allowing TCU to help shape these global practices of business. As part of the initiative, the NAI team – composed of Neeley School professors, including Jeff Chen, Robert Leone, Sarang Sunder, Morgan Swink and Minakshi Trivedi – worked together to create a dynamic conference, providing an outlet for influential thought leaders to share cutting-edge research and discuss innovative solutions for the future.
The conference was anchored by two world renowned speakers from academia and industry. Tinglong Dai, professor of operations management and business analytics at the Johns Hopkins Carey Business School, and Beth Godsey, senior vice president of data science and methodology at Vizient, Inc., discussed current topics in the health care industry. Dai shared insights into the role of artificial intelligence (AI) and algorithmic thinking in health care operations, outlining opportunities and potential pitfalls. Meanwhile, Godsey focused on the adoption of analytical methods and metrics, exploring how to create a shared vision for data analytics teams and physicians to provide better care.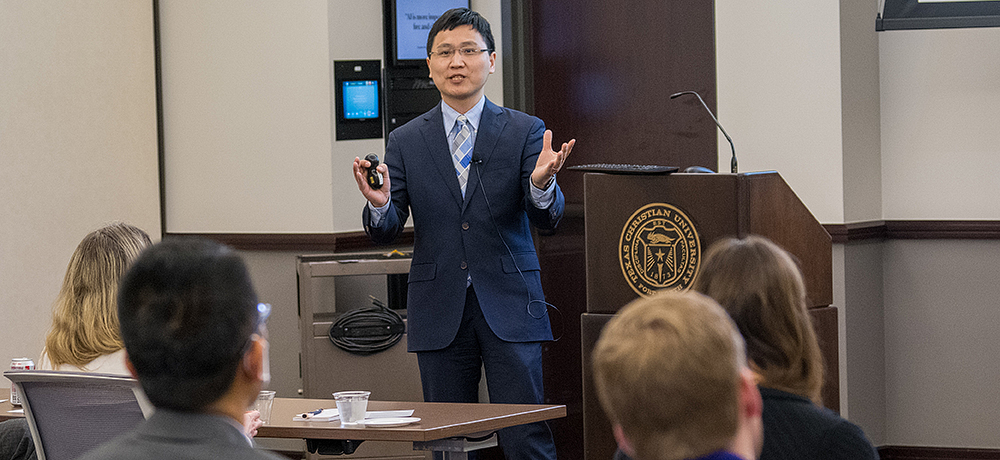 Additionally, the conference featured research from eleven presenters, showcasing the breadth and depth of elements that impact data analytics in the health care space. Conference attendees engaged in thought-provoking discussions with presenters about topics, including challenges from prescription opioid regulations and the overdose epidemic, customer relations and wellbeing, and patient satisfaction and quality of care.
"One of our NAI goals includes outreach to all of our partners, including students, alumni, industry leaders, scholars and members of the business community. The Data and Analytics in Health Care Conference served as a key driver in our strategy," said Minakshi Trivedi, NAI chair and the J. Vaughn and Evelyne H. Wilson Professor of Business. "The conference supports our mission to build a better understanding of and communication about cutting-edge research, as well as improving decision making through data and analytics." 
Associate Professor of Marketing Sarang Sunder, who also serves as a NAI team member and presented his research with co-author Sriram Thirumali, associate professor of supply chain, was impressed with the cross-functional collaboration among the attendees and fellow researchers. "The keynote speakers opened my eyes to how the industry looks at problems and how collaboration between academia and industry can occur," Sunder said.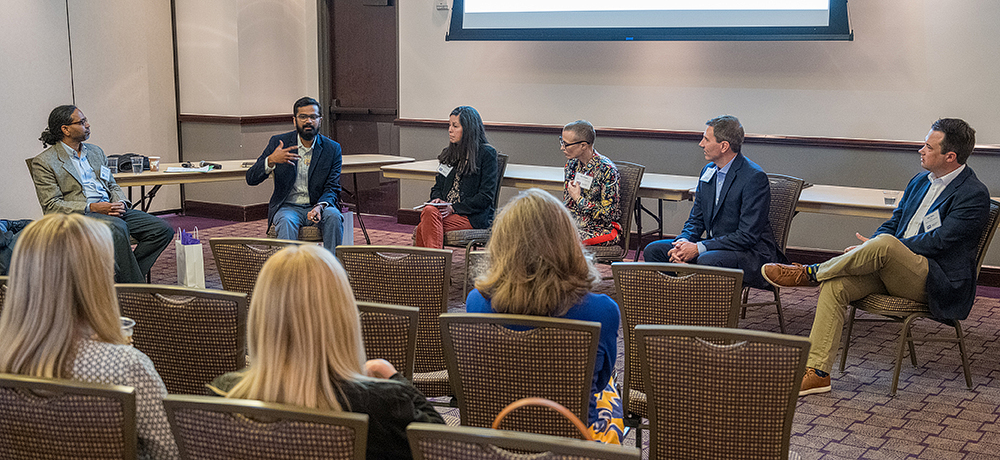 From networking to exploring new research frontiers, the NAI team views this conference as a strong step forward for the overarching initiative, fostering a collective environment that fuels the next generation of innovative ideas in data analytics.
"Our NAI team is passionate about shining a light on the impact of data analytics," Trivedi said. "This inaugural conference is only the beginning. We'll use this momentum and success to develop more opportunities in the future to share knowledge, develop solutions and empower others."