Feel the Color was started by Dixon to help the visually impaired, including those who are colorblind, have the opportunity to feel the color of their clothes.
December 10, 2019
By Elaine Cole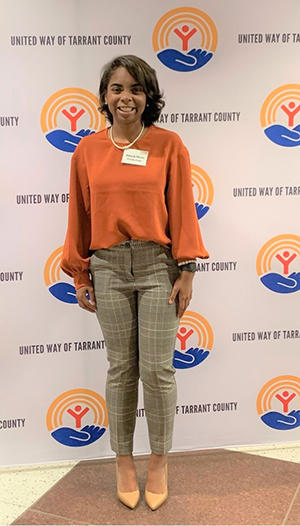 Jakayla Dixon wants to create a world where the visually impaired can choose their own clothes without having to ask for help.
For inspiration, the TCU freshman turned to her aunt, who is blind, and came up with the idea for clothing tags embroidered with braille, alphabet lettering and symbols so people who are visually impaired can feel the color of their clothes.
Dixon took first place of $25,000 in the United Way of Tarrant County's annual KERNEL Live! Challenge, which awards seed money to help grow ideas that have a social impact, a sustainable revenue model and an innovative approach to solving the social challenges of the community.
She's the youngest person to win the annual challenge in the four years it has been held.
Dixon came up with the company for a high school innovation project. "I called my aunt who happens to be blind and said I wasn't sure what to do, and she said, 'Jakayla, find something or create something that helps me know the color of my clothing to benefit me with my wardrobe options.' So I did the research and realized there was nothing out there on the market for her and for other visually impaired people. So that's how I created my company," she said.
Because visually impaired people read in different ways, Dixon created tags in three types: raised alphabet lettering, braille and symbols.
She entered the United Way contest and made it to the finals, where she pitched her idea to judges, including Matt Smilor, director of the Values and Ventures program at the TCU Neeley Institute for Entrepreneurship and Innovation.
"It was stressful," she said. "You care so much about the product that you're creating that you don't want to mess up this wonderful opportunity."
She didn't mess up. Instead she took home $25,000 in seed money to help make Feel the Color a reality.
"I'm happy they think my company can take off. I have a lot of interest, which means I'm very busy. I'm managing 20 tasks at a time. But it's all worth it because it's something I care about, and now I have the seed funding to go forward," she said.
Her goal is to hire people who are visually impaired and partner with clothing manufacturers to get the tags onto clothing "so that one day visually impaired people can walk into a store and check the back of clothing and know 'That's an orange shirt and I want that,'" she said.