Davis' impressive energy career accomplishments made him a clear choice for the scholarship.
June 24, 2021
By Nicholas Ferrandino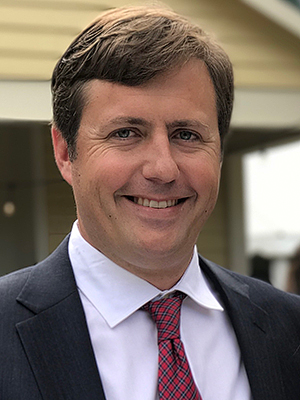 Every year, the Texas Business Hall of Fame Foundation (TBHF) offers scholarships as well as a spot in the Texas Business Hall of Fame for distinguished business professionals from 23 universities across the state. Among the scholarship recipients this year is Energy MBA student Austin Davis from the Neeley School of Business. 
Formed in 1982, the TBHF is an ever-expanding organization of business professionals aimed at honoring and celebrating the achievements and contributions made by Texas' most accomplished entrepreneurs.
The TBHF chose Davis for this honor in large part due to his many accomplishments throughout his entire career, thanks to his keen eye for opportunity and readiness to pursue it.
"Part of success is being able to recognize opportunity and take advantage of it at the right time," said Davis.
Davis' first foray into the energy industry was in 2011 when he began work for Southwinds Energy, based out of Kansas. This opportunity was afforded to Davis through the support and guidance of his mentors at the company. During his time as Southwind Energy's Director of Exploration and Production, Davis learned a great deal about the processes involved in locating, extracting and distributing energy resources throughout the country.
Nearing the end of his time with Southwinds Energy, Davis noticed a sharp rise in construction projects throughout the Dallas-Fort Worth Metroplex. Realizing the demand for waste disposal services these construction sites would require, Davis and a former college friend co-founded Panther City Disposal, selling the business for a profit several years later.
With his experience in both the U.S. energy industry as well as creating and maintaining his own business, Davis pooled together all his resources to found Connection Field Services LLC, a company that offers valuable services to oil field operators in the Permian Basin of West Texas and Southeastern New Mexico. The company provides everything from well testing to equipment rentals and manufacturing.
Having traveled across the country for his work, Davis now resides in Fort Worth, where he believes the city and TCU share a mutual relationship that benefits both partners.
"Fort Worth supports TCU and vice versa," Davis said. "There is a lot of TCU alumni in Fort Worth and there is a lot of support from and for the university. And I would say that plays a big part in the success of TCU's MBA program."
Moving forward, Davis is excited for the new opportunities both the TBHF scholarship and his MBA will open for him as he looks toward the future. He is grateful for the opportunities the Neeley School has provided him and intends to make full use of every last one.
"I would like to thank the TCU Neeley faculty and staff for being so helpful and accommodating throughout the past year," Davis said. "The pandemic did not make their jobs any easier, but they never skipped a beat."