Jones' telehealth platform, which focuses on providing real-time medical information for military K-9 units and service animals, made his application stand out among entrepreneurs across Texas.
July 12, 2022
By Tori Couch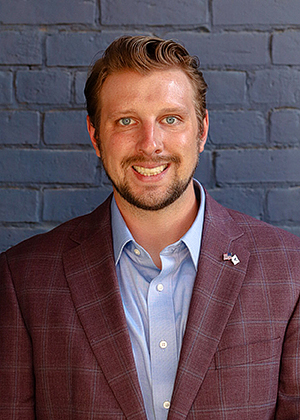 The Texas Business Hall of Fame (TBHF) named Dylan Jones the 2022 Future Texas Business Legend award recipient for his work in improving the livelihood of military dogs. The TBHF award recognizes excellence in student and veteran entrepreneurs across the state of Texas. As part of the award, Jones will receive $15,000 and be inducted into TBHF at a banquet in November.
Jones, a 2022 MS in Business Analytics graduate and a United States Air Force veteran, launched Animal Cloud Device Connectivity (ACDC) in April 2020 while finishing an undergraduate degree at the TCU Neeley School of Business. ACDC focuses on providing better healthcare treatment for military dogs through a mobile application.
"That's the talking points that really stood out through the (TBHF) interview process – the mission that these dogs serve and how they're really the unsung heroes of our nation," Jones said. "Not a lot of people understand or know about military working dogs. How they protect our borders or are in combat or guard our bases, airports, federal buildings or sporting events."
Before attending TCU, Jones served in the Air Force and watched dogs put their lives on the line every day. If anything happened on the job which could affect future performance, the service animals lacked a way to communicate those issues, Jones noticed.
ACDC provides the connection point.
"Giving the dogs a voice and giving them the ability to be monitored correctly and have their health taken care of in a new way through technology solutions really strengthens the bond between the canine and the handler," Jones said.
The telehealth platform tracks numerous data points about each dog, including procurement practices, training regimens, eating habits and activity levels. 
Jones created the company, with the help of classmates, while pursuing his BBA in entrepreneurship and innovation at TCU Neeley. As part of a class assignment, he researched government patents available for commercialization and found a mobile application used by combat medics when treating soldiers. The medics shared information, including vital signs and medical documentation, through the application.
Repurposing the technology required government approval and funding for a licensing agreement. Jones knew the technology could help animals, but it would require countless hours of research, networking, and fundraising before the vision would become a reality. An entrepreneurial spirit cultivated at TCU helped the project come alive.
"I started to mold myself to be at the intersection of entrepreneurship and data," Jones said. "How does data play in our business environment and how can we unlock data and be a data-driven and data-focused company."
TCU's cross-campus incubator program, CREATE – powered by the Shaddock Seed Fund, helped the company obtain seed money in June 2021 and make connections with legal firms. Then Jones and fellow alumna Peyton Mainwaring focused on implementing the commercialization plan. They submitted a small-business contract through the United States Department of Defense. After receiving approval, Jones and Mainwaring started working with the Air Force, which runs the Department of Defense Military Working Dog Program.
Over the past two years, Jones has focused on building up ACDC in the military community and creating an "enterprise system for commercialization". He eventually wants to bring on K-9 units from other federal agencies, including the Department of Homeland Security and the Department of Justice, along with state and local law enforcement entities.
Even though ACDC originated from government technology and currently focuses on government service dogs, Jones hopes the data gathered provides the groundwork for use with other animals and in the commercial setting.
Adoption centers take in thousands of animals every year with very little, if any, information about their medical histories. ACDC could provide more insight into an animal's health and possibly lower the number of animals euthanized each year.
A mobile application is currently being tested by 1,500 participants for at-home use. It connects pet owners with local veterinarians or groomers in addition to being a tracking device for vital signs and daily activities.
Every piece of data collected through ACDC makes a difference, no matter where it comes from, Jones said. The database will help dog handlers and owners better detect when their companion might need a little extra love and attention.
"Whether it's your dog or a military dog, they still need food, they still need love, they still need regular care," Jones said. "We're understanding the habits of users and how we can translate that into a gamified application that is enjoyable to use, and collects data points on these animals that ultimately lead to predictive analytics."