TCU Neeley Leader and junior marketing major is elected president of TCU's Student Government Association.
May 03, 2021
By Nicholas Ferrandino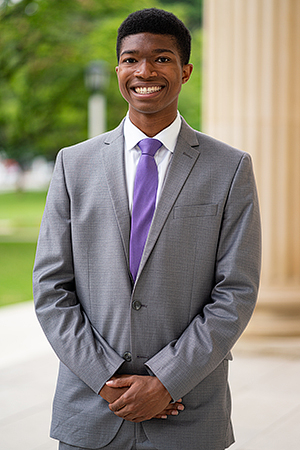 With a majority vote of 61.06 percent, Lau'Rent Honeycutt has been elected president of the TCU Student Government Association. Honeycutt is the first Black student in the university's history to reach this position.
Honeycutt is a junior marketing major at the TCU Neeley School of Business and an active member of the TCU community. He is a member of the TCU SGA, the National Association of Black Accountants, the BNSF Neeley Leadership Program and Beta Theta Pi. For his BNSF Neeley Leadership impact project, Honeycutt put together Food Fighters, a charitable foundation that seeks to bring food to the most undernourished communities in Fort Worth.
"There's something that I've always loved about the aspect of business being able to help other people," Honeycutt said. "The Neeley School has done a truly great job of not only teaching me these great values, but also with helping me network with people beyond TCU."
"Lau'Rent has a contagious spirit," said Brad Harris, academic director of the BNSF Neeley Leadership Program. "He thinks big, instills confidence, and just makes you believe that there's a better way to do things and he's the guy to make it happen. Others just gravitate toward that."
Honeycutt has taken advantage of every opportunity TCU Neeley has given him. And as president, Honeycutt is looking for the chance to give back.
One project Honeycutt is working on is a student book swap program. With it, he hopes to alleviate financial stress for students by giving them a resource they can use to share books they no longer need while finding the ones they do. He also plans to visit local high schools to speak about college enrollment, open more scholarship money for a wider variety of students, and organize post-college preparation course to prepare students for life after TCU.
Along with all of this, Honeycutt is also addressing the ever-relevant topic of diversity and inclusion on campus. He aims to create new events and traditions that foster a strong sense of unity in the student body. To that end, Honeycutt is working alongside Ann Tasby, director of the Office of Inclusive Excellence at the Neeley School.
"Lau'Rent has done a wonderful job from day one of reaching out to diverse leaders across campus and figuring out how we can all work together toward our goals for inclusiveness," Tasby said.
The Office of Inclusive Excellence has created a student advisory board composed of sixteen students across different disciplines at the Neeley School. They will provide Honeycutt with advice and feedback from every facet of the school as he develops new programs for TCU.
With the help of Tasby, Dean Daniel Pullin, and all of TCU's student and faculty body, Honeycutt has big plans for the future of the university under his leadership.
"I think the SGA does a great job advocating for our students, but I believe there is potential to do even more," Honeycutt said. "TCU is a place that is magical, and I want to make sure everyone gets the chance to see that."