RJ Finley is part of an exclusive list that honors 100 of the most accomplished seniors majoring in business in the United States.
April 29, 2021
By Nicholas Ferrandino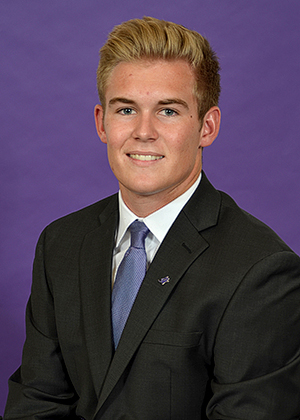 RJ Finley, a finance major and accounting minor at the TCU Neeley School of Business, has been selected by Poets&Quants as one of the 2021 Best & Brightest Business Majors.
Poets&Quants is a renowned news website providing worldwide coverage of business schools and the students who excel in them. Being selected by Poets&Quants for Best & Brightest is a prestigious honor and is only given to students who embody that moniker.
Even when he was playing baseball in high school, Finley always had his eyes on the future. With a little help and a lot of hard work, Finley began his first internship at the age of 16 working as a loan officer assistant for RPM Mortgage in California.
And the moment he stepped foot on TCU, Finley hit the ground running.
Among his many other accomplishments, Finley is the outgoing president of the BNSF Neeley Leadership Program. During his time in the program, Finley reached out to women rescued from human trafficking rings in the DFW area to assist them in finding living wage jobs that would help them achieve financial independence.
The work he did as a Neeley Leader inspired him to become a member of the International Justice Mission, a nonprofit organization aimed at ending sex trafficking and slavery across the globe.
"We need more people out there to take the leap of faith and do their best to support the women who are going through this dilemma," Finley said. "It is a global issue. And it is never going to stop unless we do something about it."
Finley is also a proud member of Beta Theta Pi. With the support of his fraternity, Finley dove deeper into his charity work, organizing programs and fundraisers that helped raise thousands of dollars for the Cook Children's Health Foundation and other charities.
"Joining Beta Theta Pi was an easy choice," Finley said. "They were very academically driven. They are fun, respectful people to be around. They were people who had done it right at TCU, and they were people I wanted to become."
Nearing the end of his undergraduate career, Finley interned as an analyst for one of America's oldest financial institutions, JP Morgan. Working alongside veterans of the trade, Finley gained first-hand experience on the ins and outs of the corporate world.
"I learned so much so quickly at JP Morgan," Finley said. "At the end of the internship I felt like my finance knowledge multiplied by a hundred."
Finley was not the only one who found the experience beneficial either. At the end of his internship, JP Morgan offered Finley to come back and work full time at their Fort Worth location starting in July. An offer he eagerly accepted.
As he moves on to start work with JP Morgan, Finley intends to remain an active part of the university. He hopes that his collaboration with TCU will help inspire future classes to go above and beyond.
"Take advantage of everything the school has to offer. There is no limit on what you can do," Finley said. "I also want to thank my family for all of their support. They are always my biggest supporters, no matter what I do."
Read Finley's full article here.