BNSF Neeley Leader Caleb Jerome shares how learning to lead others helped him find success in his academic and professional journey at TCU, leaving a lasting impact he'll carry forward in his career.
December 10, 2021
By Erin Smutz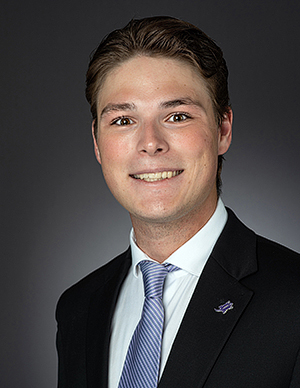 Caleb Jerome, a finance major with a leadership emphasis at the TCU Neeley School of Business, is lauded by his peers for his geniality, astuteness and thoughtful leadership.
"He maintains a levelheaded disposition and has an impressively objective perspective that shows not only through what he says, but in how he acts," said Cassie Trosino, a fellow BNSF Neeley Leadership Program member. "Caleb is the type of person you want to work alongside at your company and have on your team."
Now in his final year, Jerome reflects on his time at TCU and what's next for his career.
Why did you choose to attend TCU Neeley?
CJ: I chose to attend TCU Neeley because of its rich history for developing students into confident and capable young professionals, and for the variety of resources the business school offers students. There are so many opportunities for students to get involved at TCU Neeley, and knowledgeable faculty and staff to support you along the way, offering an experience that I couldn't find anywhere else.
Tell us about your involvement during your time at TCU Neeley.
CJ: I'm a member of the BNSF Neeley Leadership Program, serve on the Member Development Board for Sigma Phi Epsilon, and work in TCU's Office of University Advancement and as a Fraternity and Sorority Life Resident Assistant. 
Tell us about your proudest accomplishments while at TCU Neeley.
CJ: My proudest accomplishment while at TCU Neeley has been my continued involvement in the BNSF Neeley Leadership Program. Through this program, I have had the opportunity to serve as a Neeley Ambassador to companies visiting campus, give tours of the business school, and assist in developing the next generation of young professionals through leading workshops and mentoring students.
My involvement with the BNSF Neeley Leadership Program has provided me with the skills necessary to lead others. The program's guiding principles have helped me find success working in TCU's Office of University Advancement. I was also selected for the 2020-2021 Fraternity and Sorority Life Resident Assistant of the Year Award.
What's next? 
CJ: After graduation, I will join JPMorgan Chase & Co. as a private banking analyst in the Fort Worth office.
 
What will you miss most about TCU Neeley?
CJ: I will miss the immense support system that has been with me for the past four years of my life at TCU Neeley. The students, professors and staff have all gone above and beyond to support me throughout my academic and professional journey. I truly feel that I have built a strong community here at TCU Neeley.