Brent Bousquet received the Future Texas Business Legend Scholar Award for his exemplary contributions to the community and innovation as an entrepreneur and the founder of IGH Health, Fire, and Safety.
August 09, 2023
By Allie Salinas
Brent Bousquet, a TCU Neeley School of Business student, was honored with the Future Texas Business Legend Scholar Award by the Texas Business Hall of Fame. The award recognizes a student entrepreneur of excellence.
In Bousquet's case, the award acknowledges his business knowledge as the founder of IGH Health, Fire, and Safety, which bridges the gap between first responders and the public's understanding of emergency situations.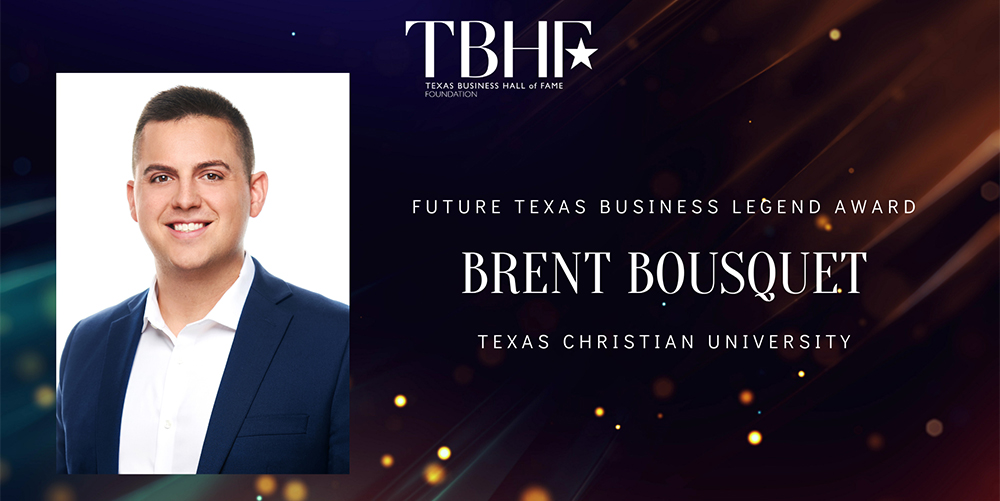 Bousquet's journey of becoming an entrepreneur started during his eight years at Arlington, Texas' busiest firehouse, Station 6. As officials at the station responded to over 7,000 calls each year, he noticed a regular lack of preparedness and education among the public and, in some cases, the providers serving them. This observation led him to establish IGH Health, Fire, and Safety, a locally-owned business operated by firefighters, nurses, first responders, and veterans.
Founded with a mission to provide comprehensive emergency fire protection and safety services, IGH aims to equip the community with vital life-saving skills and knowledge. Bousquet and his team offer a wide range of services, including CPR, first aid training, and fire protection, with a focus on educating the public about the importance of preparedness and safety measures.
Bousquet's dedication to his cause caught the attention of the Texas Business Hall of Fame, an organization supporting local small businesses and entrepreneurs in the Lone Star State. The award celebrates Bousquet's achievements, as well as provides access to invaluable resources and networking opportunities to further bolster his business, Bousquet said.
"Getting this award was an answer for me that I am on the right path and that this is where I am supposed to be.," he said. "I look forward to being part of the Texas Business Hall of Fame community and advocating for the organization to support other entrepreneurs."
Bousquet said he has been overwhelmed with gratitude and would like to encourage more TCU students to participate in the Texas Business Hall of Fame. He believes that other students would benefit from the organization's support and create a lasting impact on the business world.
When asked what led to his success, Bousquet emphasized the importance of finding a genuine passion and being dedicated to that cause. It also takes plenty of hard work. He also highlighted the significance of organization, time management, and a strong work ethic in achieving personal goals.
As an established, successful business owner, Bousquet was interested in enhancing his education, prompting him to enroll in TCU Neeley as a major in entrepreneurship and innovation. He said, the value of education and the impact it can have on his business are clear. With this award, Bousquet plans to share his experience with others as an advocate for TCU and a proud representative of the university in the Texas Business Hall of Fame.
"Never shy away from advocating for yourself," Bousquet said. "Always strive to communicate and socialize with people of all ages and backgrounds. Networking and self-representation play crucial roles in personal and professional growth."