Thirty business school deans from across the state came together at TCU to discuss innovation, entrepreneurship and the economics of business schools.
October 19, 2021
By Rachel Stowe Master
Eager to network, learn and collaborate, 30 business school deans from across the state gathered at the TCU Neeley School of Business October 3-4 for the 2021 Council of Texas Business Deans Conference — the deans' first meeting in two years.
"We've faced a lot of challenges with the pandemic, changes in our economy and a variety of other issues that business schools have had to not only endure but lead on. And that's what we do here at TCU — we lead on," said Daniel Pullin, the John V. Roach Dean of the Neeley School of Business.
"It was a wonderful interchange of ideas and aspirations. We challenged each other, we shared our concerns, we solved problems and — ultimately — we made Texas better, we strengthened what our business schools do and we paved a way for generations of students to make a difference in the world," Pullin said.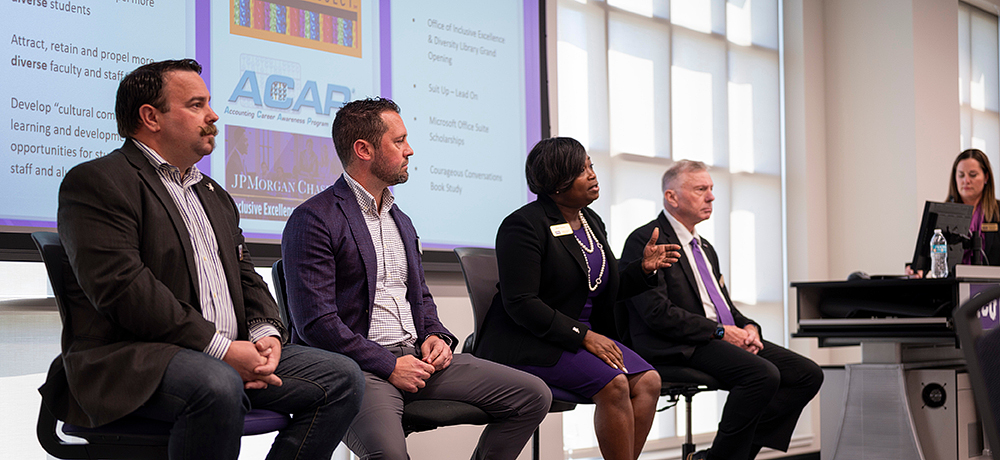 For some deans, it was their first in-person conference since the pandemic started.
"I was energized by the ability to be back face to face with so many of my business dean colleagues who have been dealing with the same challenging issues over the past 18 months," said Margaret L. Williams, dean of the Rawls College of Business at Texas Tech University. "More importantly, I was impressed by the quality of the program that Dean Pullin put together. The whole program was thought-provoking and inspirational. I left with concrete actions to put into place at the Rawls College of Business."
"Being a relatively new dean myself — I'm in my third year on the job — I think it's important to network and get to know other business school deans in Texas, and of course given the pandemic, we didn't have the chance to do this earlier," said Paul A. Pavlou, dean of the C.T. Bauer College of Business at the University of Houston. "So it was an opportunity to develop camaraderie, learn what the other deans are doing and exchange practices."
The conference began with a reception Sunday night. Dean Pullin delivered opening remarks, sharing about Neeley's approach to collaboration across academia, business and civic communities, which was followed by a warm TCU welcome from Chancellor Victor J. Boschini, Jr.
After dinner, the deans enjoyed a show on the art of improvisation from critically acclaimed comedy troupe Four Day Weekend.
"The improv group was delightful. It was good to interact with them and get their perspective," Pavlou said. "As deans, we also got to bond and interact in a more casual setting, so that was another highlight."
Monday morning began with a networking breakfast followed by opening remarks from Fort Worth Mayor Mattie Parker, who discussed the role of entrepreneurship as a growth engine for the city, Texas and beyond.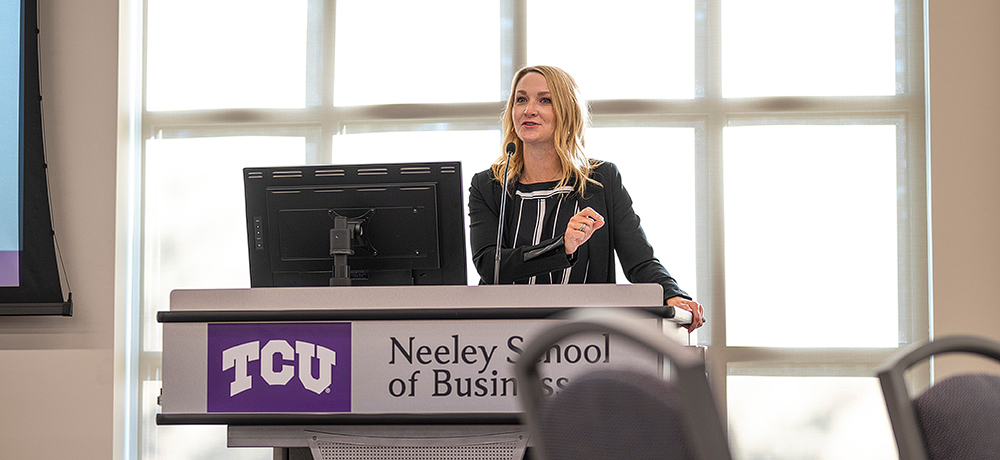 "As conversation evolves today, I want you to think about the power of entrepreneurship, innovation and truly what technology can provide, especially for communities that have traditionally been left behind and have not been tapped by the ingenuity of a business school like many of you are representing here today," Parker said, emphasizing the importance of education and workforce training.
"If your ingenuity and innovation that you are practicing at each of your universities right now doesn't trickle down into K-12, we will not be the Texas miracle anymore," she added.
The day included four sessions tailored specifically for Texas business school deans.
As Robert Allen, president and CEO of the Texas Economic Development Corporation, the nonprofit responsible for marketing Texas as a premier business location, shared a statewide economic outlook, he pointed out where business schools can make a difference, lead and innovate. Next, a panel of forward-thinking C-suite leaders shared insights on present and future hiring needs, including desired skills, current gaps and opportunities.
In another discussion, directors from TCU Neeley's Centers of Excellence shared how their unique outcome-driven model drives results for key stakeholders. And in the final panel conversation, several business school deans shared their strategies for maximizing success given today's economic trends, corporate needs and ever-changing world.
"The highlight for me was to be reminded of the transformational impact business schools can have on their local communities as well as across the state and nation," Williams said. "I appreciated hearing from business leaders from PepsiCo, eBay, The Vitamin Shoppe and Oracle about the skills our students need, how quickly business is changing and how universities must break down our own internal silos to be able to respond nimbly to the needs of business and society."
"We had 30 deans from the best business schools in the state of Texas sharing ideas, sharing aspirations and problem-solving together to make sure that we're doing all we can to prepare our students not just as graduates but as the culturally competent leaders we need for business and for society," Pullin said. "It was a remarkable interchange. It was great to see so many talented leaders thinking about the future. It was a great day, a great weekend and a wonderful opportunity for TCU to shine."
A special thank you to our 2021 Council of Texas Business Deans Conference speakers:
TCU Chancellor Victor J. Boschini, Jr.
Daniel Pullin, John V. Roach Dean of the TCU Neeley School of Business
Fort Worth Mayor Mattie Parker
Robert Allen, President and Chief Executive Officer, Texas Economic Development Corporation
Maria Baltar, Assistant Vice President, Accreditation Operations and Implementation at AACSB International
C. Brad Crisp, Associate Professor of Information Systems and Dean of the College of Business Administration, Abilene Christian University
Doug Smith, Senior Vice President, Strategic Partnerships, Oracle
Ralph Goedderz, VP Finance, PepsiCo Beverages North America
Scott Schenkel, former Interim CEO, eBay Inc.
Sharon M. Leite, Chief Executive Officer, The Vitamin Shoppe
Marilyn K. Wiley, Dean and Professor of Finance, G. Brint Ryan College of Business, University of North Texas
Robert F. Scherer, Dean and Professor of Management in the School of Business at Trinity University
M. Dave Malenfant, Director, Outreach & Partnerships, Center for Supply Chain Innovation, TCU Neeley School of Business
Zachary Hall, Associate Professor and Director, TCU Sales Center, TCU Neeley School of Business
Matt Smilor, Director, Values and Ventures Program, Institute for Entrepreneurship and Innovation, TCU Neeley School of Business
Ann Tasby, CPA, CIA, Director, Office of Inclusive Excellence and Accounting Faculty, TCU Neeley School of Business
Molly Rose Kanthack, Assistant Director, Graduate Recruitment and Admissions, TCU Neeley School of Business