The TCU Neeley School of Business launches a new program that brings industry professionals into the classroom to share their expertise and insights.
August 23, 2021
By Nicholas Ferrandino
The TCU Neeley School of Business is proud to introduce the new Executive in Residence program starting this fall semester. Corey Hutchison and Bets Lillo will be the first two members of this program.
The Executive in Residence program aims to take business leaders across various industries and bring them into the TCU Neeley curriculum giving them a platform to share their experiences with students and show the practical, real-life applications of what students learn in the classroom.
As executives in residence, Hutchison and Lillo will not only be teaching students in their fields of expertise, but they will also be responsible for bringing in new stakeholders and financial support for both the program and its students.
Corey Hutchison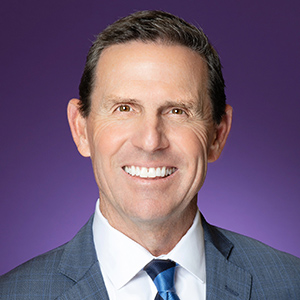 With 32 years in the tech industry, Hutchison has climbed the ranks of several different executive and corporate positions with a wide range of tech companies including VMware and IBM. Prior to arriving at TCU Neeley, Hutchison was one of the founders of the Sales Leadership Center at California State University, Fullerton, which shared many of the same objectives that the TCU Sales Center and Executive in Residence program aim to accomplish.
Today, Hutchison is the acting vice president for American Sales for the San Francisco-based software company HashiCorp, a role where he will continue to accumulate applicable experiences that he can bring directly to the classroom.
Hutchison's primary academic focus in the program will be on professional consultative sales and modern selling theory, emphasizing the best methods of practice required for success in the field.
"The importance of the Executive in Residence program [for me] is to show students and future sellers that when you merge current sales theory with real-world experience, sales can be done with customer-focused, value-based professionalism," Hutchison said.
While working as a program professor teaching consultative selling, Hutchison will be filling several other roles at TCU. He will serve as the executive co-director of the TCU Sales Center at the Neeley School of Business and as a staff member in the Certificate in Consultative Sales program.
Bets Lillo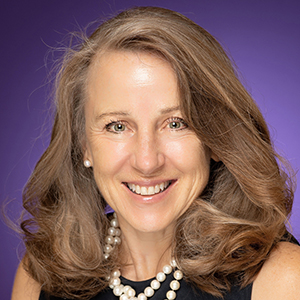 While acting as an executive in residence, Lillo will also serve as an adjunct professor of global supply chains at TCU Neeley, sharing her own experiences and inviting industry experts to help students tackle the complex challenges of supply chain management.
As the vice president in procurement and finance roles at AbbVie, a multi-billion-dollar biopharmaceutical company, Lillo was recognized with the company's highest honor for her role in building the integrated business systems to support operations for the successful launch in more than 100 countries.
Lillo developed a view of supply chain as a real-time network through her role as vice president of AT&T's Global Service Assurance center based in the United Kingdom with staff across 65 different countries providing seamless business services to multinational companies such as Maersk and Amadeus.
"We see tremendous growth in the complexity which global supply chains must accommodate and the speed at which they must operate," Lillo said, emphasizing how the shortages that have occurred over the past 18 months – from toilet paper to semiconductors – highlights the importance of supply chains in the global market and how they can be impacted by labor availability and geopolitical forces.
Lillo looks forward to engaging with TCU Neeley students to explore today's supply chain challenges, building a system of connectivity and capability that will support the strategic demands that companies place on supply chains.
These two on-campus entrepreneurs will be the beginning of what TCU Neeley hopes to cultivate into a much larger program with professionals hailing from every field of business.
"The Executive in Residence program complements the deep expertise of our world-class faculty by bringing targeted industry perspectives into our classroom," said Daniel Pullin, the John V. Roach Dean of the TCU Neeley School of Business. "As a result, we are thrilled to welcome a growing number of senior executives and entrepreneurs into the life and times of the business school."