Marketing Professor Mark Houston steps forward as the new Associate Dean for Faculty and Research.
May 26, 2021
By Nicholas Ferrandino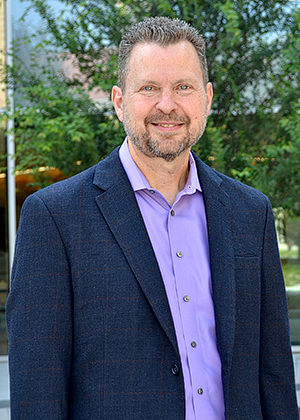 Mark Houston has been announced as the new Associate Dean for Faculty and Research at the TCU Neeley School of Business. He was nominated by fellow TCU Neeley faculty members who have come to trust his leadership ability after working with the business school for more than a decade. 
Houston's new position involves two primary duties focused on faculty administration. The first is caring for the various juridical aspects of faculty upkeep, including hiring processes, annual evaluations, promotions and tenures.  
His second responsibility is crafting a faculty research plan that promotes the creativity and productivity of TCU professors working on their research and other academic pursuits beyond the classroom. 
Houston first began work at TCU in 2007 as the Eunice and James L. West Chair in Marketing where he was soon promoted to the position of professor. In 2014, Houston left to work for Texas A&M University. But after three years, Houston decided to return to his original position at TCU. 
"TCU has a unique culture," Houston said. "It is a very healthy and somewhat rare environment. It is a school that intrinsically cares about both the student experience as well as the scholarly side of research. There are some schools that are good at one or the other, but we happen to care deeply about both." 
Houston avidly believes in the camaraderie and teamwork that TCU fosters. While other universities are more adversarial with faculty competing for attention with their research, Houston sees in TCU a community where professors support and promote one another's work, and where collaboration between departments is common practice. 
Houston plans to further strengthen the aspects of TCU that make it successful both culturally and academically. Throughout the process, Houston wants to ensure all faculty on campus are treated fairly and are given every opportunity to pursue what drives them the most. 
"My goal is to figure out where the resources we need are; then how we motivate, incentivize and recognize people so they are supported to achieve their goals." 
Houston stresses that his move from research to an administrative role is not a promotion, but a vital responsibility. As a research professor, Houston loves the work he has done at TCU Neeley being encouraged and supported to pursue his own interests. And as the associate dean for faculty and research, Houston will be setting his personal interests aside to ensure current and future faculty are given the same opportunities he had while working at TCU. 
"In my time at TCU Neeley, I have been impressed by Mark's work ethic, attention to detail and collaborative approach to leadership," said Daniel Pullin, John V. Roach Dean and professor of entrepreneurship and innovation. "In this new position, Mark will steward the aspirations and possibilities for all our faculty for years to come."