Students anywhere in the nation learn synchronously from remarkable professors, corporate immersion and collaboration in Neeley's experiential model. The inaugural cohort is finishing the first semester and preparing to welcome spring 2023 classmates.
December 08, 2022
By Tori Couch
When Erika Zimmermann considered pursuing a Master of Business Administration, only one school made the list – TCU Neeley.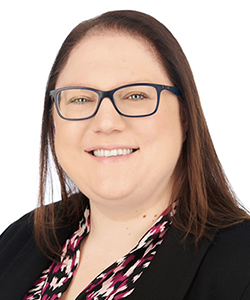 A digital ad for Neeley's new online, part-time PMBA program caught Zimmermann's eye and the two-time TCU graduate knew it was the answer for her. Working in south Fort Worth and getting off after 5 p.m. made Zimmermann hesitant about applying for in-person options, so this online program was the perfect solution.
"I've always wanted to be in the Neeley school," she said. "It was kind of a perfect match."
Zimmermann and other working professionals from around the country joined the PMBA program in Fall 2022 as members of the first online cohort.
Adding an online PMBA allows Neeley to expand its footprint across the country while taking advantage of current trends, Assistant Director for Graduate Recruitment and Admissions Alex Rodriguez said.
"Many of the top business schools are beginning to offer their MBA online," Rodriguez said. "The online Professional MBA has made TCU Neeley more accessible to working professionals who may not have otherwise considered us."
Andrew Vogl lives in New York and needed the flexibility an online program provides because he travels frequently as a regional sales manager for Ray Murray Incorporated.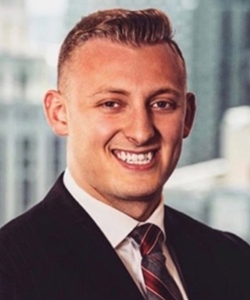 While applying for the PMBA program, Vogl talked with professors and received one-on-one guidance from Rodriguez. Those interactions made TCU the clear choice over Syracuse University and the University of North Carolina system.
"It just seemed the professors were very knowledgeable and organized," Vogl said. "Alex did a great job of laying everything out. Alex sent me extensive details of the whole two-year program. The degree program covered an array of topics such as accounting, statistics, managing operations and processes. I believed all of these topics were extremely important for me to expand my business knowledge and to become an expert in these areas."
The online PMBA requires the same 42-credit hours as the in-person program. It can be completed in two years, but students have five years to finish.
Part-time students take two, 1.5-hour classes every eight weeks for a total of four classes and six hours per semester.
Online students receive the same classroom experience as their in-person counterparts. Students join the evening classes live through Zoom. This approach allows each professor's expertise and passion to shine through the screen, Zimmermann said.
"You can tell this is what they enjoy doing," she said. "It makes learning that much easier."
As a former teacher, Zimmermann understands the importance of classroom engagement. She taught middle school science for two years after earning a bachelor's degree in Chemistry in 2013. Zimmerman obtained a Master's in Education and Curriculum in 2018, while coordinating Tarrant County College's community education and engagement programs.
Now, she works at the Boys & Girls Clubs of Greater Tarrant County as the director of workforce development. Her background is unique for an MBA program compared with classmates like Vogl, but that enhances class discussions.
Vogl enjoys learning from those different perspectives. Evaluating case studies on maximizing a company's profitability and getting hands-on practice have also helped him grow professionally.
"We've done simulations and case studies where we get to choose where we're putting certain investments and capital," Vogl said. "We can learn from that. I like the real-world examples of how to be a business leader."
Online students build relationships through class discussions and group projects. They also have an opportunity to meet in Fort Worth during the "Grow Your Worth" weekend each semester. The weekend features classroom time, networking opportunities, and a social event.
A second online cohort will begin the PMBA program in Spring 2023. The online program was initially designed as a fall-only entry, but TCU added the spring class when potential applicants expressed a need for flexible start dates, Rodriguez said.
Rodriguez puts together each class, looking for individuals with five to seven years of professional work experience and an undergraduate degree. Interviews let applicants tell the story a resume or grades might miss.
"We have a holistic approach to evaluating students. Even prospective students who do not have the most impressive undergraduate GPA, but who have a quality professional profile, may be great candidates for our program," Rodriguez said. "It's important to evaluate who the person is now and who they've become based on their lived experiences."
Rodriguez's evaluations created an initial cohort with a diversity of thinking and students who are already making post-graduation plans.
Zimmermann does not have a specific new job in mind but enjoys project management and event planning. An MBA will refine the skills necessary for those roles and open more doors, she said.
Vogl is targeting high-level executive roles. Understanding finances and how to control operating costs can get him there.
"In order for a company to become successful and extremely profitable, these are skills you need to know," Vogl said. "And these [professors] are experts at doing it."
Learn more about TCU's online PMBA program and start an application here.