If you have an idea for a product, app or service that employs business concepts to solve a social problem, you could win cash and support to make it a reality.
February 12, 2020
By Elaine Cole,
Ten years ago, the TCU Neeley Institute for Entrepreneurship and Innovation had a dream: reward college students who come up with innovative business ideas that make a profit while also making a valid impact on our community. 
They created the Richards Barrentine Values and Ventures® Competition to do just that.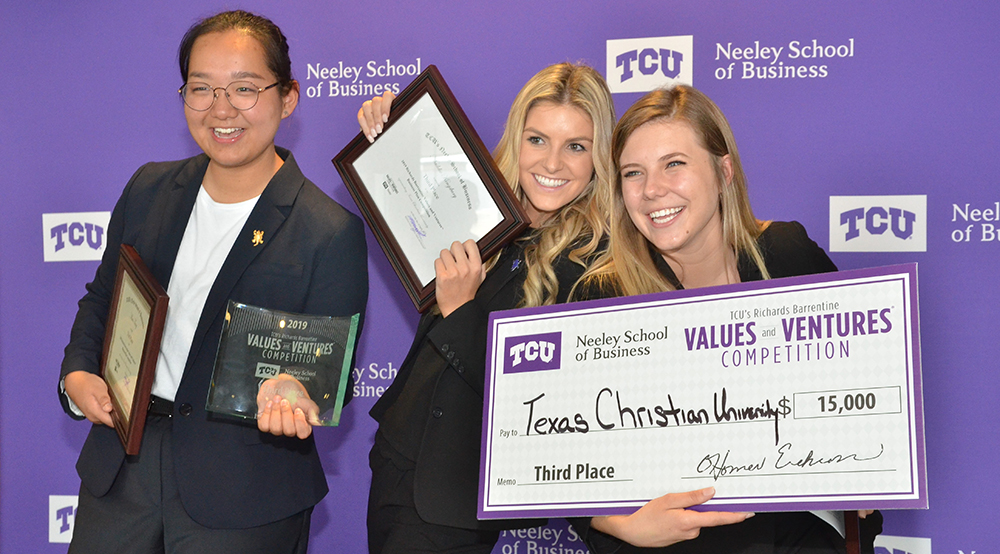 To celebrate the competition's 10th anniversary, the Institute raised the total cash prizes for the global competition from $100,000+ to $200,000+. 
Here is your chance to win.
TCU students from any major can compete in the internal Values and Ventures competition on February 25, 2020, for a chance to win $2,500 First Place, $1,500 Second Place or $1,000 Third Place. First place advances to represent TCU at the global competition in April – and the chance to win some of that $200,000. 
Values and Ventures® TCU Internal Competition
February 25, 2020
5:00 p.m. till the last pitch
NEEL 1530 (Smith Hall)
Submit your application and an executive summary at neeley.tcu.edu/vandv/. 
Rules
Undergraduate only.
Each team must have at least 2 students.
Pitch your plan for an original for-profit venture with a distinct values component.
Each team has 8 minutes to pitch and 10 minutes for Q&A.
Include how you will use the winnings to advance your idea.
First Place in this TCU internal competition advances to represent TCU in the global Richards Barrentine Values and Ventures® Competition April 24-25, 2020, at TCU. Grand Price: $100,000. Second: $40,000. Third: $20,000. Honorable Mentions: $5,000 each.