Companies received advice and resources to help elevate their presence while recruiting new hires.
August 10, 2022
By Tori Couch
Employers from across north Texas and the country gained valuable insight on how to recruit and keep talent at a new TCU Neeley School of Business event this summer.
The University Recruiting Summit, held in the new Hays and Sumner Halls, brought together 61 companies from a range of industries, including healthcare, financial services, media, entertainment, and transportation. Students, faculty and staff from Neeley and talent management experts provided tips on navigating the current hiring trends and creating an engaging work environment.
"A huge challenge is workforce accessibility, talent accessibility and how to keep people if you're lucky to hire people," Jessica Cates, Neeley's senior director of graduate student success, said. "It's not just people leaving en mass, but also where are the people available to hire."
Cates and Jessica Matula, the director of Neeley's undergraduate career services, organized the summit. The summit's theme focused on the way a company's value proposition influences a recruit's desire to accept a job offer and stay for multiple years.
BNSF Railway Human Resource Manager Alex Thompson liked the ideas for showcasing a company's brand and value to potential recruits. Instead of holding a generic interest meeting, a campus visit could include providing a meal or personalized conversations in a classroom setting.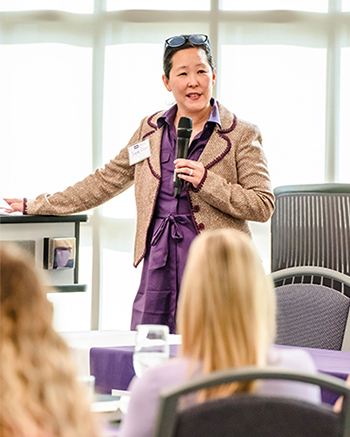 Microsoft's Global Talent Acquisition Director, Joyce Chew, gave the keynote address. Chew has extensive experience in talent recruitment and management at Amazon, REI and the Bill and Melinda Gates Foundation.
She spoke about recruiting the Generation Z workforce from a parent's perspective since her son is a student in the Neeley School of Business. Chew's recruitment model of "Know, Like, Trust" stood out to Thompson.
"It makes perfect sense," Thompson said. "It's similar to a courtship when you're trying to hire someone. You want them to get to know your company, fall 'in like' with your company and trust your company enough to onboard and join the team."
A 30-minute student panel provided a first-hand perspective on the attributes candidates find appealing during the hiring process. The panel consisted of Neeley undergraduate and graduate students and a recent graduate.
Thompson said she learned students want the job posting to include professional development opportunities and employee resource groups. This approach helps a potential hire see how they could grow professionally and fit into the company.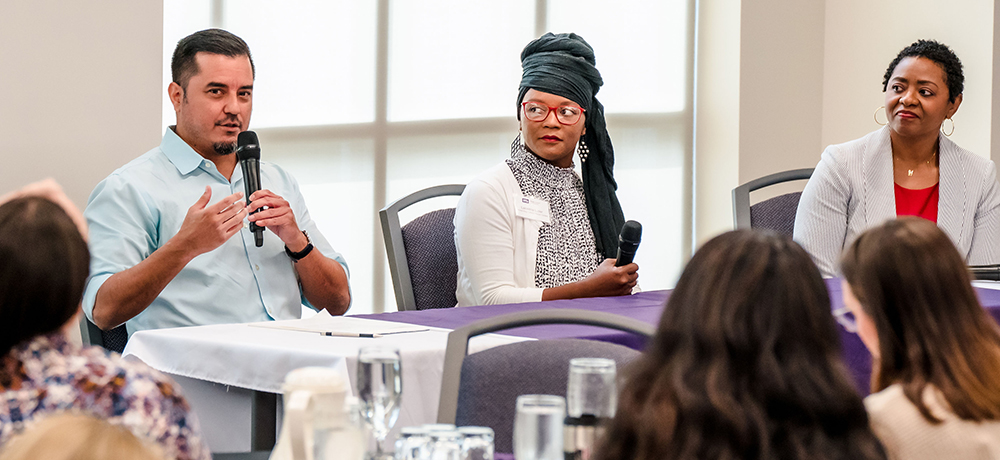 Katelynn Hernandez, an inventory planning manager at Mary Kay and a TCU '13 graduate, noticed students valued an authentic recruitment and interview process. Clear brand recognition was an additional tool that would draw or deter students.
"When we do come to hire somebody, people are like 'Oh, that's Mary Kay,' or whatever company it is," she said. "[You have] to really build that brand all the time, 24/7, and not just when you need to fill a job. I think this program gave you ideas and options to build that relationship."
Every nugget of information the students shared helped employers re-evaluate and improve processes.
"I wish we would have gone on for hours just being able to talk to the students," Hernandez said. "We're here for them. When you're recruiting you are trying to get the best and the brightest. What better way to understand what they're looking for, what they want and what they need?"
Feedback from participants in the University Recruiting Summit helped Cates brainstorm ways employers can continue the conversation with students during the year using on-trend communication channels, like podcasts.
The summit also highlighted Neeley's Office of Inclusive Excellence, the Fulfilling the Neeley Promise: Strategic Plan for the next five years, and the six centers of excellence. Employers discovered methods for partnering with the Neeley centers and working directly with students coming out of an undergraduate program ranked #19 by Poets and Quants.
"We're really good and we've been really good," Cates said. "We're about to be exceptional. It was a way to get people excited about where the Neeley school is headed."
Cates, who has worked in Neeley's career services for almost 13 years, hopes the summit becomes an annual occurrence. She originally scheduled the first summit for 2020, but the COVID-19 pandemic forced a cancellation.
Now the ball is rolling.
A summer 2023 summit, in addition to the possibility of another summit during the school year, are already in motion. Maintaining the summit as an in-person and on-campus event remains a priority so companies are in the best position to actively recruit TCU students, Cates said.
"Certainly, it's a very competitive marketplace, but it's about positioning yourself in a way that's not just for right now." Cates said. "Our goal, from a Neeley standpoint, is to have these employer partners in the good times, the bad times, the challenges. Think about the right now, but as you make plans, make sure it's applicable for later."