More than 1,000 thought leaders, business community members, alumni and students came together on the TCU campus to explore the future of business during a weeklong series of innovation-focused events, including the Neeley Innovation Summit, Global Energy Symposium and Values and Ventures® Competition.
May 20, 2022
By Erin Smutz
Innovation is essential to survive in today's rapidly evolving environment, whether it's in the way we fuel the world, create new business ventures or how we lead organizational transformation. Last month, the TCU Neeley School of Business launched its inaugural Innovation Week, March 30-April 2, 2022, to explore innovation from a broad range of viewpoints and learn not only how to plan for the future of business, but to lead it.
More than 1,000 thought leaders, business community members, alumni and students came together on the TCU campus to take part in the weeklong series of innovation-focused events, discovering insights into the global practice of business and learning strategic ways to turn change into opportunity.
Innovation Week kicked off with the all-day TCU Global Energy Symposium hosted by the Ralph Lowe Energy Institute at the Neeley School of Business, focusing on the role the U.S. will play in the global energy shift. The symposium featured seven unique panels of energy thought leaders, scholars, analysts and policy makers from around the world who discussed the opportunities and challenges of the energy transition. Each panel sparked thought-provoking questions and conversations on various energy topics that will shape the future of energy leadership and innovation, including security, reliability and accessibility.
The Neeley Innovation Summit took a deep dive into the future of business with Daniel Pullin, the John V. Roach Dean and professor of entrepreneurship and innovation, sharing an update on the school's new five-year strategic plan, Fulfilling the Neeley Promise. Pullin outlined five key goals for building a business school for the remainder of the 21st century, focusing on revenue generation to support growth, investment in faculty research, expansion of inclusive excellence opportunities, student satisfaction and success, and elevation of the TCU Neeley brand. Pullin's full presentation of the strategic plan update can be seen here.
Fulfilling the Neeley Promise

 
Goal 1


Grow revenue to realize TCU Neeley's future.

 
Goal 2


Resource our world-class faculty to generate business insights that catalyze communities.

 
Goal 3


Recruit, retain and propel talent in an inclusive environment celebrating a diversity of people and ideas.

 
Goal 4


Ensure student success, satisfaction and fulfillment.

 
Goal 5


Build a prominent and differentiated Neeley School brand that motivates audiences to co-invest in our rise.

 
 
The summit continued with a keynote session from globally renowned futurist Elatia Abate, focusing on how to create opportunities out of the unpredictable. Michael Sherrod, the William M. Dickey Entrepreneur in Residence at TCU Neeley, and Brad Harris, former associate professor of management and leadership, offered sessions about driving innovation in organizations, talent and leadership. Collectively, the summit explored how to envision new business solutions during times of accelerated change.
Students from around the world came to the Value and Ventures® Competition hosted by the Institute for Entrepreneurship and Innovation to pitch their trailblazing business ideas that make a profit while also making a real impact on our community. The institute awarded more than $120,000 to winners for leveraging their business skills and innovation to create pioneering and profitable values-centered ventures that solve the world's problems.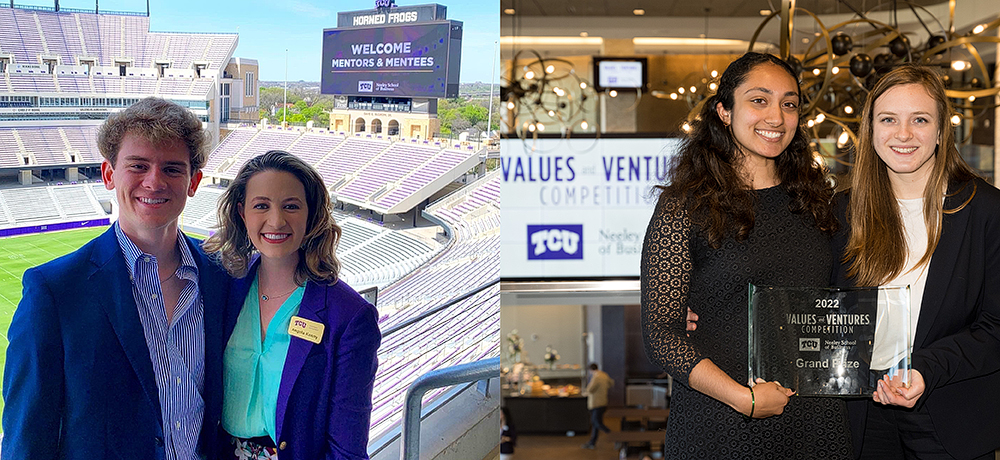 The TCU Neeley Mentorship Program hosted a luncheon at the Legends Club at Amon G. Carter Stadium, bringing students and their mentors together to celebrate the end of another successful year building a culture of connection and support. The student-run program connects successful TCU Neeley alumni mentors with sophomore business students, helping nurture students' professional development and build leadership skills as part of their career journeys.
As a whole, Innovation Week was an impactful, transformational experience that TCU Neeley plans to offer each year. It's an opportunity to partner in each other's success – empowering all of us to grow our expertise and network as well as pour knowledge back into our community and future generations.