Marketing Professor Minakshi Trivedi studies the disconnect between the public's desire to make healthy choices and what they actually buy at the grocery store.
June 10, 2020
By Grace Toups, TCU Magazine
On a routine grocery store trip, Jane fills her cart with a variety of healthy foods, from sugar-free cereal to reduced-sodium soup. Jane perceives herself to be a healthy eater, but as she makes her way down an aisle, her eye falls on her favorite flavor of salty, fried potato chips on a buy-one-get-one-free sale. She grabs two bags without a second thought.
An interest in how consumers make food-shopping decisions led Minakshi Trivedi, the J. Vaughn and Evelyn H. Wilson professor of marketing and department chair in the TCU Neeley School of Business, to look at the disconnect between the public's desire to make healthy choices and the realities reflected by their purchases.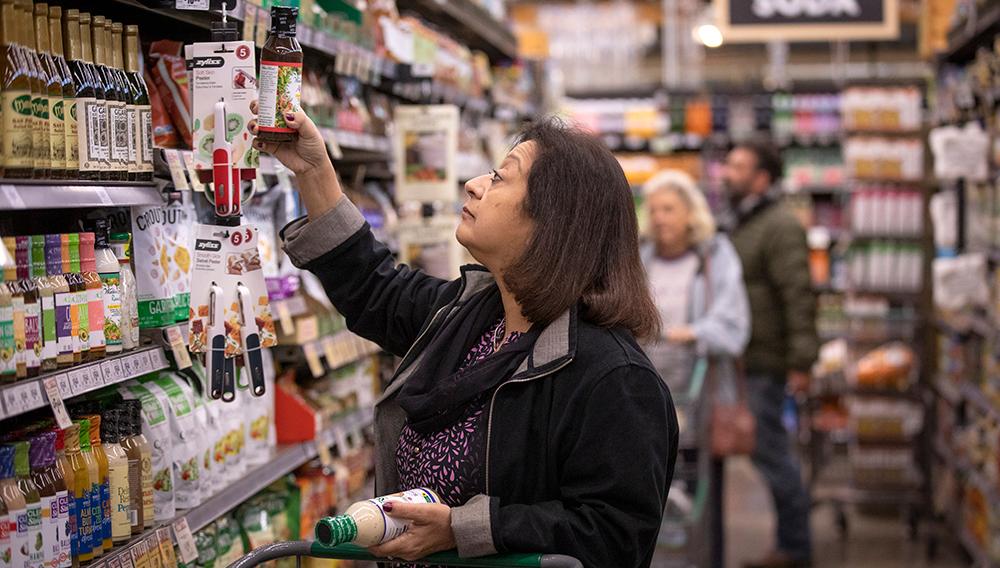 Trivedi, who is also director of research for the TCU Neeley Sales Center, researches the ways individual consumers react to digital marketing efforts, which can be tailored to specific customer segments. In recent years, she also has studied policies to deter video game addictions and has looked at corporate health and wellness programs.
One of her studies, "Impact of Healthy Alternatives on Consumer Choice: A Balancing Act," published in the Journal of Retailing, sought to develop retail marketing strategies and public policy to encourage healthy food consumption.
Trivedi, along with co-researchers Karthik Sridhar at Baruch College in New York City and Ashish Kumar at Aalto University in Finland, focused on how consumers view their dietary choices and how in tune actual shopping habits are with this perceived persona.
The researchers found that blanket healthy eating campaigns are not effective because people respond to different messages. 
"That's what today's marketing is all about," Trivedi said. "It's about understanding the consumer, their needs, and trying to meet those needs."
Read the full article on the TCU Magazine website here.