Every preview luncheon features a panel of alumni who offer their personal insight into the benefits, challenges and experience of the TCU Neeley Executive MBA program. Here are some of our favorite soundbites from the June 6 luncheon.
July 02, 2018
Every preview luncheon features a panel of alumni who offer their personal insight into the benefits, challenges and experience of the TCU Neeley Executive MBA program. Here are some of our favorite soundbites from the June 6 luncheon.
The Panel
David Culler, '13
IoT Solutions, PTC
David was already running a large operation for his then-employer, SunSource, but felt there were gaps in his education. He wanted his master's to refine existing skillsets, learn new ones, and network with other professionals in Texas.
Jay McCall, '17
Program Manager of Education, Rainwater Charitable Foundation
Jay always loved school, and his kids were out of the early childhood stage, so he was excited to start the MBA program, changing his mindset around strategic thinking and managerial leadership by getting exposed to other leaders in the business world – from his classmates to the faculty and staff.
Jon Souder, '12
Director of Health Industries Advisory Practice, PricewaterhouseCoopers
Jon was in healthcare administration and being pushed to get an advanced degree. After comparing the faculty at Neeley to other programs, he felt Neeley was the obvious choice – and with the smaller class size, he knew he'd also have more access to them.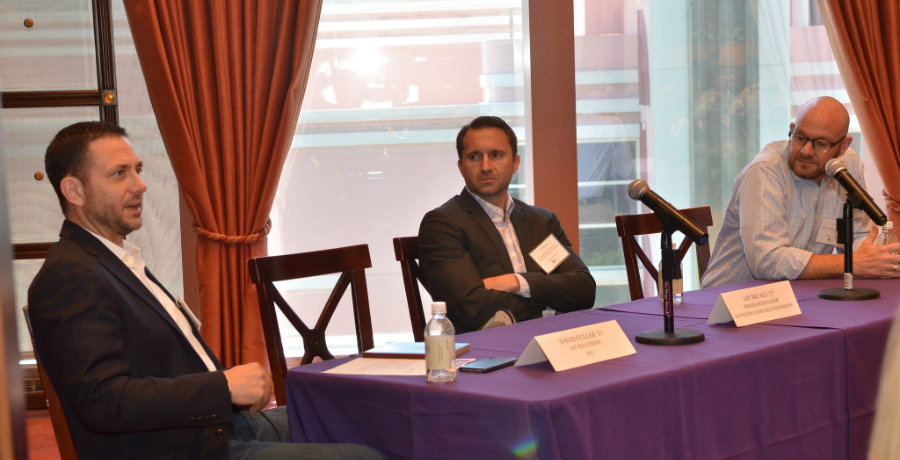 ON TRANSFORMING AS A LEADER
JAY
My transformation began that very first weekend. It was a targeted discussion around, what are some of the things that you see? The managers that basically suck, what was the problem there? And the theme of blind spots and just not being self-aware; constantly challenge your assumptions about yourself, about other people. Really a transformation in mindset more than, "Now I know how to read a balance sheet better." It's some of that, but it's much more about, "How are you approaching problems?"
JON
The biggest leadership lesson I learned was, A: That I wasn't the smartest person in the world, and B: That I never should be the smartest person in the room, right? Recognizing the value of that diversity of thought. Getting to hear different perspectives from different industries and how they were tackling different challenges gave us interesting ways to go about some of the problems we had in our world. And that has always resonated in my head. You don't have to be the smartest person in the room and tell everybody what the answer is. What you need to do is get in a room full of people that are a lot smarter than you and ask a bunch of questions.
DAVID
I had always progressed by being a doer. By being knowledgeable and being able to execute. And I think that makes you really good at a job function. But at some point, you do start to realize, you don't need to be the doer. If you're going to be the leader, you have to promote and you have to learn the people that you work with. The program helped me as I was making that transition in my career, where I wasn't responsible for the day-to-day functions of things being done, but in a much higher level, managing multiple operations. But also making sure that we had the right talent, that we had a good culture. Every aspect of the program really resonated with a time in my life. Actually, I had two promotions throughout the program.
ON MAKING CAREER CONNECTIONS
JON
It was in 2012, a long time ago, that I finished the program. Then last Sunday, three or four days ago, I played golf with one of my classmates out in San Francisco. I had set him up in Minneapolis with partners in PwC, then his wife relocated to San Francisco, so we're looking to see if we can help him get a job out there. There are probably five or six guys and gals that I talk to on a weekly basis. And so just great personal relationships.
DAVID
We're kind of a tight group of folks that I graduated with. Collectively, we've helped to fund seed money for one of our classmates to start a business. We've all relied on each other for advice, talk each other off a ledge sometimes when you're trying to make some of those tough business decisions, add some clarity, get some outside perspective. On the personal side, I've been involved in a lot of charities that I wasn't involved in before. Together we've been able to raise lots of money for lots of great causes. And for me it's personally been tremendously rewarding.
JAY
Our class was the most diverse group of people I've ever been around. And not from just your typical racial or ethnic backgrounds. But just in viewpoints, in experience, in personalities. There were thirty-two different people in there. Very different. It really stretched me. That was real life relationship-building interaction. You really grow in a lot of ways.
ON THE STUDY ABROAD TRIP
DAVID
My class, 2013, we went to South America. Brazil, Argentina and Chile. And, while you're out of the country, you really bond. Everybody talks about that's kind of a turning point in the program, where you just get to know your cohorts, your entire class, so much more. Also, I started this new career at PTC, and that was one of the things that helped me get this position; my time spent in South America. Not that I was an expert by any means, but part of my role was to help our South American teams learn this new cutting-edge software. Also developed a partner in that country – because it's really hard to sell in a country if you're not from there. And just being able to understand the culture in Brazil – Rio is different than in São Paolo. Even just having those two weeks of experience really helped me on the professional side as well.
JON
We went to China in 2012. The way they do business is a lot different than the way we do business here. There's a lot of kind of wasted investment in China, because they can't send the money outside of China. But just things like that, and the way you grease the skids to get business done. You've got to open your mind up to that and be aware of that so you can effectively execute business if you are working in a global industry.
JAY
We went first to Casablanca, Morocco, and then Barcelona and then Athens. The world is so much bigger than Fort Worth, Texas, which has basically been my world. It was just really eye-opening. And just to see the different types of life and how they conduct business and how they are so willing to take as long as it takes. We have countless stories of everybody we visited on our trips – they cleared their schedule. They were willing to sit and talk through the night, through the evening. And we would sit around later and talk about "why don't we do that?"
ON UNEXPECTED OUTCOMES
JON
I kind of went into the program to get an MBA, to get letters behind my name. I really didn't think I was going to learn a lot. Because I really did think I was just this incredibly brilliant leader. And I went in and that first weekend, I was like, "I'm going to love this." I learned so much. The very first project I did when I was in the program, I came back to PwC, and I was literally using stuff from the program. So the letters behind my name – that's actually the thing I care least about now.
JAY
I went into it still working full time, still have kids and so it's like, if I can just kind of compartmentalize and get through it. But I didn't anticipate how much I would enjoy it. The challenge is really figuring out how you do balance it. Because you want to spend all your time on it, you want to do all the projects, you want to meet with your team. The other outcome is, I didn't expect to have the admiration and respect for the faculty that I did. And I'm definitely the guy that's like, "This speaker's an idiot," most of the time. I went into it thinking, "they're probably just academic, and how much are they really going to be able to teach us?" And it was just not that at all. You want to go to class and listen. It's like with Dr. Smilor today, "Keep going. Don't stop. I'm learning." For every class, you're exposed to that level of expertise.
DAVID
I would echo that a hundred percent; that the faculty was far above and beyond what my expectations were. And not just their knowledge, but their ability to grab your attention. And you think about it, two four-hour blocks, basically. All day Friday, all day Saturday. The type of people that want to get their MBAs are typically kind of fast runners and it's hard to get their attention for a long period of time. So I think the faculty was absolutely phenomenal with the entire program. It was captivating, it was interesting, it was engaging, it was collaborative. And I think you're learning not just from the faculty but from the people in this classroom. There's just so many different experts within their field or their industry that you're in class with. 
ON THE TIME INVESTMENT
DAVID
I was thinking all my Saturdays and Sundays were shot for the next 18 months. And it wasn't like that. Once you get in a groove, you find free time. You're not watching ESPN Sports Center for 35 minutes, you're getting something done. The byproduct of that is, once you get out of the program, you're like, "Oh my god, I have all this time. What am I going to do with it?"
JON
You can do this program with time that you're currently wasting, if that makes sense. The things that are important to you, you're still going to be able to do. You're going to learn to manage time incredibly well. I don't remember feeling like I was sacrificing a whole lot. And I did feel like everything I did was pretty damn meaningful. For that entire year.
JAY
It's not a constant burn. Yeah, you're going to ramp up. There's going to be a couple of months where it's like, "Oh my gosh, Finance is going on and my team has this project and maybe the team's not getting along, and work's also really busy," and you run real hard and then the good thing is, maybe the next set of classes, you get a chance to breathe.
DAVID
Also, part of being on a team in a cohort program, you'll have people that back you up. Three people had kids while they were in the program and a couple of them missed the whole weekend because they were literally at the hospital with their wife delivering a baby. So we picked up the slack. We'd send an e-mail saying, "Here's what happened in class and here's what we're doing." It's just like in the real world. If one team member has a life event that can't be avoided, everybody else picks up the slack. As long as you don't play that card too often, right?
Donna Turner '17, Business Solutions Architect, DGTurner LLC., added:
The time that I had to take for class didn't bother me. It was the time that took away from my class that bothered me. "I don't want to do the dishes right now, I don't want to pay the bills right now, I want to work on class." This is the stuff I enjoy. So I would suggest, change your framework in your mind for just a couple years. Go ahead and pay other people to do those things. Pay for your laundry to be done. Pay for somebody to come over and clean your house. Put together an infrastructure that you will have the space that you need to dedicate to class. Because you're going to want to.
ON IMMEDIATE RETURN ON INVESTMENT
JON
When I finished the program, I came back to PwC. And the first pitch I made was a strategy pitch for a health system in Dallas. I was competing against big strategy firms that all know this framework. But they told me what they were looking for and I drew that strategy down and I talked through an example that I'd used on my capstone project with another healthcare provider. And I think the jaws hit the floor. Not because it was genius, but just because it was a very logical framework. I think, when we spend so much time in an industry, we start to lose the context of what we're doing because we get wrapped up in the details. So to pull that context back out, we won the work. And they did big things with it.
The panel shared much more insight that we didn't list here. Join us for the next preview luncheon and don't miss a word.
This panel discussion followed an engaging talk by Dr. Ray Smilor on creativity and harnessing your team to find creative solutions to complex problems. Read the recap here.