Wheelan's fully formed business plan focused on equine rehabilitation made her application for the $15,000 scholarship stand out.
December 09, 2020
By Mariana Rivas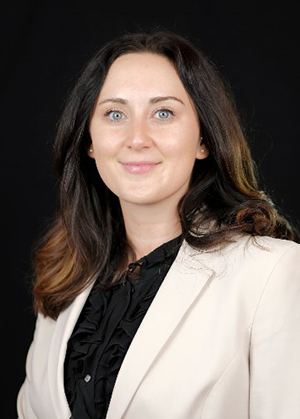 Energy MBA student Jenny Wheelan was awarded the 2020 Texas Business Hall of Fame Scholar Award for her excellence in leadership skills and entrepreneurial spirit.
Wheelan's equine rehabilitation business idea began from her love of horseback riding.
"Horses get injured a lot and spend time rehabbing, but there isn't a lot of types of different ways to rehab horses," she said.
Once she found out about equine treadmills, she got an idea. "The stronger your horse is, the less likely it is to get injured," she said.
Wheelan ordered a treadmill to see if getting horses to exercise would be a viable business idea. She began to build a network of clients who also want to prevent their horses from getting injured. Wheelan hopes her equine rehabilitation business will flourish, but she said she could also see herself as a VP at an energy company.
"I'm hoping to change how women are viewed in the energy industry," Wheelan said. "It's a male dominated industry, and women need to have a seat at the table."
Ann Bluntzer, associate professor of professional practice in management, has helped Wheelan develop several business plans.
"Her innovative ideas make her a standout, and her ability to articulate her entrepreneurial aspirations is remarkable," said Bluntzer.
Bluntzer witnessed Wheelan's ability to hold her own at the TCU Energy Case Competition earlier this year.
"She was the only female team member for TCU and did such an impressive job that her team was selected as a finalist in very competitive field of graduate students from all over the world," Bluntzer said.
As a Texas Business Hall of Fame scholarship winner, Wheelan was honored at the TBHF's virtual award luncheon, where she heard from accomplished THBF legends discuss how they've achieved their success.
"You're able to meet people and learn about how other business owners are either struggling or thriving amongst the pandemic," Wheelan said about the event.
Past TCU awardees include Brooke Honcharick TCU '16 MBA '20, Maddie Kingsbury BBA '19, Sarah Mitchell BBA '18, Amenemope McKinney MBA '18, Matt Matuszak BBA '17, Stephanie Stare MBA '16, Glenn Decker MBA '15, Gabe Williams MBA '14, Anneke Talsma MBA '13, Daniel Gandarilla MBA '12, Ben Voigt BBA '11, Daniel Graham MBA '10, Justin Anderson TCU '09 and Tim Bates BBA '03 MBA '08.