Our first class of Master in Business Analytics students are set to begin working on data projects for impressive companies starting January 18, 2021.
December 18, 2020
In October, ten student teams from the first class of Master in Business Analytics heard from 14 companies at a virtual matching event. The teams shared their respective skills and backgrounds, and then the company representatives pitched their data projects. The teams and company representatives chose their top three choices of groups to work with and were matched to start projects for the Spring 2021 semester.
Student Natascha Hartvich said, "It was kind of like a speed date, but with different companies and groups. It was a great way to expose a lot of different projects and companies and see their different scopes and get insights into it."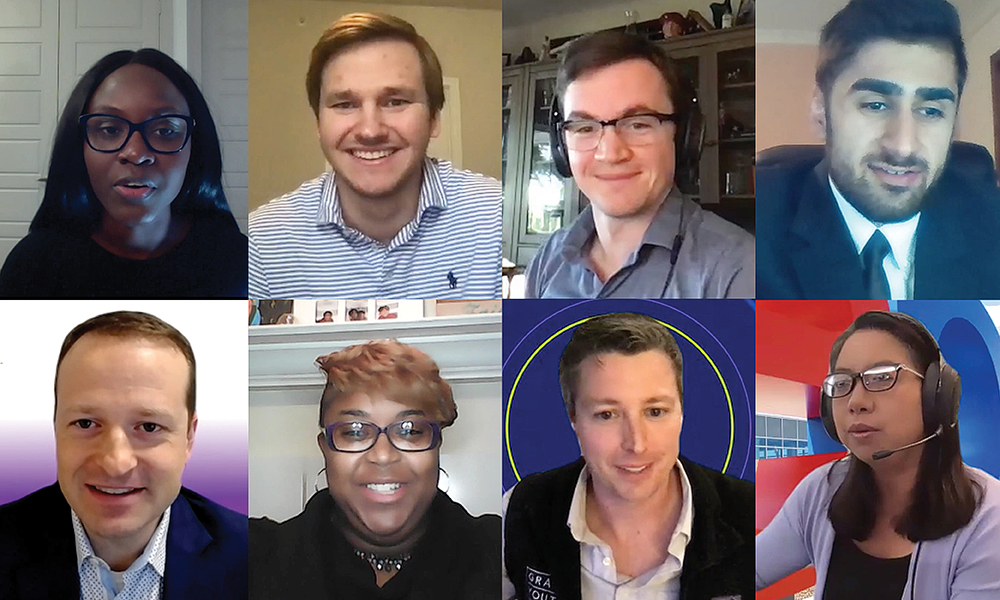 At the matching event, Hartvich shared about her own background with her potential matches. Hartvich has a bachelor's degree in business administration and an MBA from TCU. She decided to enroll at TCU again after realizing the benefit of adding the in-demand skill of data analytics to her résumé.
"I realized the need for data skills in a very competitive market," she said. "The tech and software and being able to code is really a growing area in any business."
Hartvich was ultimately matched with Celanese, a Dallas-based chemical production company, along with 4 other classmates: Mark Hendrick, Katie Brennan, Mark Hunter and Amir Saran.
After the teams and companies were officially matched, students met with company representatives to discuss the details of the projects, such as how many hours were needed and what kind of software they could use.
Along with completing their data projects for the companies, students get credit for their work in the classroom. Students will meet once a week in their capstone course to discuss their progress and challenges.
Course instructor Michael Sherrod, the William M. Dickey Entrepreneur-in-Residence, said he designed the course to help prepare students for the real world of data.
"They will experience what the profession of a data analyst is really like: the pressures of managing a project, the discipline of deadlines, the supervision of other professionals, the reporting of results," Sherrod said. "They will learn the work and understand how it fits into organizations and how data powers important enterprise decisions."
Companies also have a lot to gain from the arrangement. Not only do they get completed data work, but they also get a look at possible new hires.
"The companies get a good look at potential employees, they get to know them, they see their work ethic and how they handle the work and, more importantly, how they communicate the results of the work to management," Sherrod said.
Students in the capstone course will be the first to experience this type of learning, since this group was the first to enroll in the program. The master's program officially started in summer 2020. The curriculum was put together in just three weeks to meet the demand.
Analyzing data "is of very great value in the job market today," said Minakshi Trivedi, the J. Vaughn and Evelyn H. Wilson professor in marketing and chair of the Neeley Analytics Initiative. "It doesn't matter which field you're in, you're going to find it useful to be able to analyze data that's out there being collected."
"There is no better preparation than actually learning from doing," Sherrod said. "Being able to take the theory learned in class and apply it in a real business setting enables them to integrate theory and practice for a much deeper learning experience."
Hartvich's team will begin working on internal predictive demand models for Celanese when the Spring 2021 semester begin in January. They will use data skills to predict production needs based on market trends and purchasing history from previous years.
"Just getting a chance to have a client and work with them, you get a chance to incorporate both your hard and soft skills in a project that is still in a controlled environment yet has real-world elements," Hartvich said.
The companies that presented at the event were Celanese, Parker Autism Center, eBay, Tractus, Shoppa's, North Texas Entrepreneur Education and Train Center, Dell, Antega, Cook Children's Medical, Quicksit, Juggle, Learfield and Sailpoint.