Coach of the team Edward Riefenstahl shares the formula for their continued success.
April 16, 2021
By Nicholas Ferrandino
For the third year in a row, TCU Neeley's MBA team has won the Big 12 MBA Case Competition. Out of its fifteen-year history, TCU is the only university to take first place three years in a row.
The group participating in this year's competition included TCU MBA students Andres Crosby, Ryan Edwards, Kaitie Czuchaj and Jacquelyn Turner. The team was built in joint effort by Director of MBA Experiential Learning Edward Riefenstahl and second year MBA student Ryan Winn, with each member chosen for his or her expertise in the fields of strategy, marketing, finance and operations.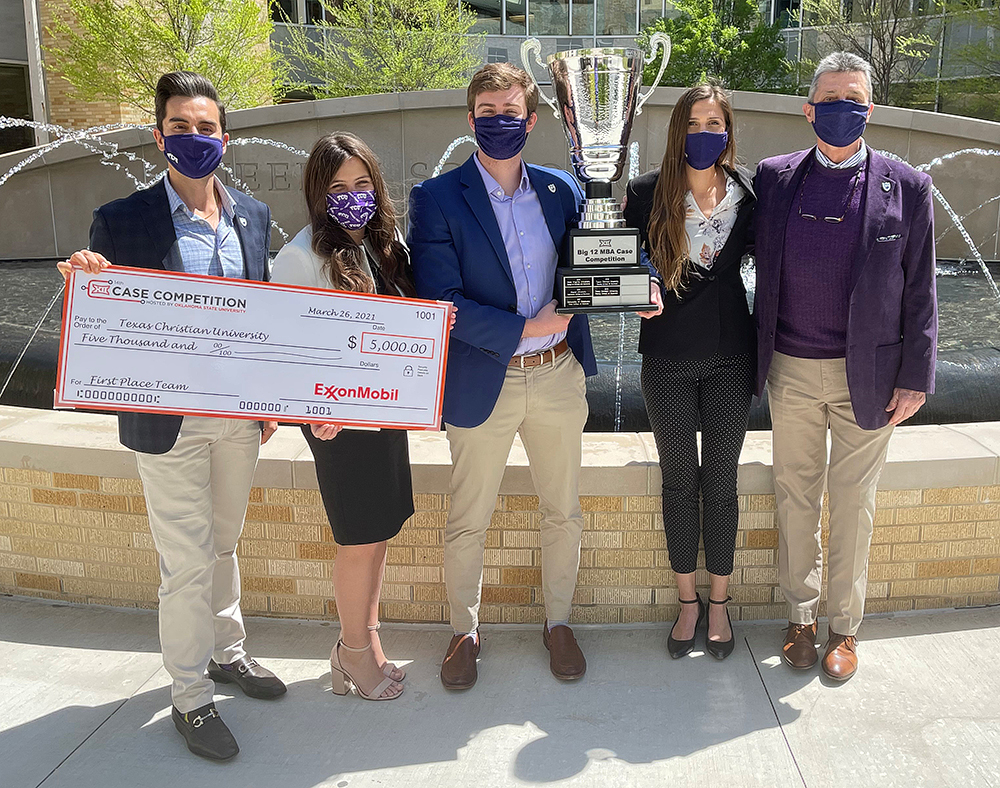 "We want a well-rounded group of individuals," Riefenstahl said. "They need to have good executive presence, they need to be articulate and authentic in presenting, and they need to have confidence in what they are communicating."
Hosted this year at Oklahoma State University, the Big 12 MBA Case Competition presented competitors with a topic selected by a guest sponsor. This year's sponsor was Exxon Mobil, who challenged the teams with their own investment dilemma.
The students had $1 million dollars to invest, but $1.5 billion dollars worth of potential investment opportunities. So they had to decide how to allocate resources that were specific to the oil and gas industry.
Once given the topic, the team had 24 hours to research and prepare a 20-minute presentation to a panel of judges with a Q&A afterward. For TCU Neeley's team, Riefenstahl emphasized the importance of addressing all alternatives, counterarguments and worst-case scenarios when making their investment pitch.
"The team would talk about what could go wrong if we implement these recommendations," Riefenstahl said. "They discussed the associated high-level risks, and then what might be some preventative contingent actions to consider."
Tried and tested for three years running, this tactic has once again secured the $5,000 cash prize for TCU's MBA team.
To help prepare the team, Riefenstahl also organized a practice competition with the help of TCU Neeley alumni who had participated in past case competitions.
"I got seven different alumni to go through a mock presentation and Q&A with our team," Riefenstahl said. "Those alumni did an outstanding job providing feedback."
This is the first year the team has trained with this method. And with its success, Riefenstahl is considering its application in future competitions.
A big thanks to the TCU Neeley alumni who participated and helped prepare the TCU MBA team for this year's competition.
Peter Blair MBA '17, Walmart
Casey Schuler MBA '17, Palatium Care
Claire Lukeman MBA '20, IBM
Ray Serzanin MBA '15, AT&T
Tony John MBA '18, Deloitte Consulting
Zhenya Egupova MBA '15, EPAM Systems
Rachel Manthei Leeke MBA '19, Leeke Piano Performance