This summer, TCU Neeley School of Business student interns are gaining a wealth of hands-on, real-world experience with some of the most respected companies in the world, including BNSF Railway. In this fourth story of our multi-part series, business student Serena Nguyen shares her in-person internship experience.
August 20, 2021
By TCU News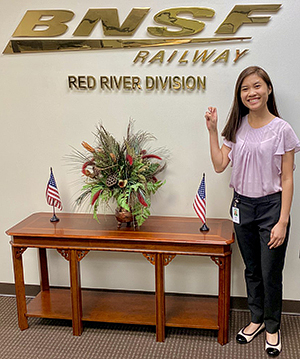 For her role as a transportation intern with the operations department at BNSF Railway, Serena Nguyen, a junior supply and value chain management major from Fort Worth, relocated to Houston for the summer.
One of her projects involves making recommendations to increase efficiency through decreasing dwell time on trains in one of the Houston rail yards.
"Originally, the plan was to approach the recommendations by changing the locations of inbound and outbound trains, but after analyzing the data and structure of the yard, I will pivot my approach and primarily focus on the overall decreasing of dwell time using a different method," said Nguyen, who will present her recommendations to division leaders at the end of her internship.
Nguyen has ridden trains and blown the horn, visited numerous rail yards, witnessed the process of changing the rails on a track, and shadowed in BNSF's transportation, mechanical, engineering, marketing and security departments.
"Through my time as an intern, I have learned how all the departments operate together and make the railroad run. I have learned about the vitality of the railroad in the country's economy, the technological advancements involved in the operations and what it takes to keep BNSF at the forefront of the freight transportation industry," Nguyen noted.
She said it's hard to pinpoint just a single internship highlight: "The experience I have had during these past few months is unparalleled to anything I have ever experienced before. The internship has been hands-on, allows me to provide valuable input to the company and gives me a worldview of the successful operations within a supply chain. I can honestly say that this has been one of the best summers of my life, and I look forward to bringing my newly profound knowledge back to the TCU community and into my future career."