CREATE – Powered by the Shaddock Seed Fund invests in students from all walks of life, including those who have served to protect this country.
June 10, 2021
By Nicholas Ferrandino
CREATE – Powered by the Shaddock Seed Fund is a cross-campus startup engine designed to get feasible ideas off the ground. It provides experience for both sides of a startup: raising money and investing money. TCU Neeley's Institute for Entrepreneurship and Innovation hosts the biannual CREATE business idea competition where students from across campus present their five-minute pitch before a panel of judges with the goal of funding their endeavors as well as becoming a part of the CREATE program.
This year's spring competition saw students participating from every school on campus. In total, 58 teams comprised of 88 students came forward with their own pioneering ideas in industries ranging all the way from marketing to medicine. And out of those 58 teams, 41 received funding for their new ideas as well as access to all the other resources CREATE offers.
The catalyst for what CREATE is today began as the Shaddock Venture Capital Pitch Competition back in 2015. In the program's beginning, students simply competed for financial backing for their projects.
But what started off as a cash prize contest has gradually evolved into a comprehensive year-round program built to help aspiring TCU entrepreneurs achieve their goals. Successful participants still receive monetary funding for their projects, but today's incarnation of the pitch competition now provides students with so much more.
"The pitch competition is just one part of what CREATE really is," said Rodney D'Souza, managing director for the Institute for Entrepreneurship and Innovation. "We have now grown into one of the largest cross-campus, co-curricular programs at TCU. CREATE has helped to start and grow ideas and companies all across the campus."
The CREATE program today provides aspiring entrepreneurs from every background and walk of life with the tools and resources they need to make their ideas into tangible, marketable products.
"CREATE today has grown to become what I always dreamt of it becoming," said Bill Shaddock, TCU alumnus of the class of '73 and the founder and financer of the CREATE program. "Entrepreneurship is like learning how to swim. There's only so much you can learn about swimming on the sidelines. CREATE is the opportunity for students to get in the pool and try it for themselves."
Animal Cloud Device Connectivity
Dylan Jones and Peyton Mainwaring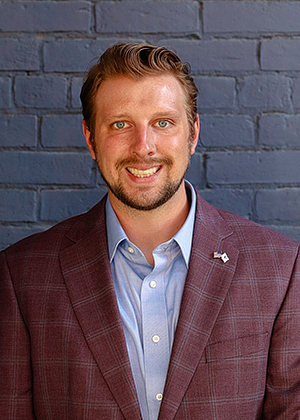 One entrepreneur benefiting from CREATE is TCU Alumnus Dylan Jones, an eight-year United States Air Force veteran as well as Co-Founder and President of Animal Cloud Device Connectivity (ACDC).
With a BBA in Entrepreneurship and Innovation from the TCU Neeley School, Jones partnered with TCU Alumna Peyton Mainwaring to create the Animal Cloud device. Repurposing technology made publicly available by the U.S. Department of Defense, Jones and Mainwaring developed a platform capable of remotely tracking the vitals of animals in real time.
In the beginning, their original plan was to use ACDC in the cattle industry. They would use the device to trace and identify diseases in cattle to help save livestock and increase food production. But their pitch was not gaining much traction.
While brainstorming with Mainwaring on how to garner more interest from investors, Jones recalled his time in the Air Force, and the four-legged brothers in arms who often served as their frontline.
"These military dogs were our first line of defense," Jones said. "Every time we moved cargo off base, we would always have one or several military working dogs checking to make sure that the off-base vendors did not have something that was not supposed to be there."
But despite the integral role they play and the inherent dangers they face, no comprehensive health care system exists for the country's canine combatants. Jones and Mainwaring decided ACDC could provide that missing link and retooled their animal cloud idea to provide real-time medical information for K-9 units and other service animals working in the states.

With their focus now on assisting service animals, Jones and Mainwaring brought their new pitch to the CREATE competition, where they found major success.
"The CREATE competition went beyond just funding the company," Jones said. "It was almost like they were an incubator for our company. They helped us with the licensing agreement, helped us with the funding of that licensing agreement, and helped us get in contact with legal firms to build our company formation."
ACDC today has successfully launched their telehealth platform for animals working in law enforcement and are now working on a contract with the United States Air Force Research Labs to develop a system to provide coverage for military dogs. From there, they hope to make the Animal Cloud device a commercial product, first pushing into the market by creating products for race and show horses before making it available to pets and other domestic animals. After improving the efficiency and reducing the cost of their health monitoring software, Jones hopes to reintroduce ACDC to the cattle industry to achieve their original aspirations of increasing food production through proactive disease prevention.
Jones is returning to TCU Neeley this fall to obtain his Master's in Business Analytics. With this new accreditation, he hopes to further expand the scope and scale of ACDC as the company continues to gain traction.
Tend + Temple
Heath Jordan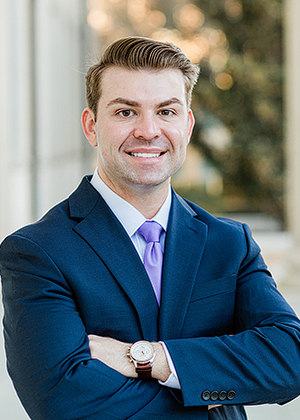 Another entrepreneurial aspirant of CREATE is TCU Neeley student Heath Jordan. A six-year United States Air Force veteran, Jordan is working toward a BBA in Entrepreneurship and Innovation as well as a Certificate in Consultative Sales. He has also recently launched his first product line of skin care products at his startup company Tend + Temple.
While in high school, Jordan was diagnosed with cystic acne. It is a condition that, in more severe cases, can lead to life-threatening complications including melanoma and skin cancer. Jordan's acne advanced to such a critical stage that a large cyst had to be surgically removed from the back of his neck while he was still in high school.
His own unpleasant experiences got Jordan thinking about ways to provide comprehensive skin care to kids suffering from similar ailments.
"These breakouts can be an embarrassing time for a lot of kids," Jordan said. "And the idea I had was what if there was a way to help them prevent having to go through those embarrassing times through their junior high and middle school years."
This idea followed Jordan all the way through his years of service as a medic while he toured across Europe and Turkey, where he got to experience firsthand the different approaches these countries took with the beauty industry.
Jordan maintained regular appointments with local spas and dermatologists, at one point even visiting hot spring spas in Budapest, Hungary, to help keep his cystic acne in check. During this time, he learned a great deal about natural remedies sourced directly from local flora. It was during this time that Jordan arrived at his next epiphany.
"Our beauty industry has a lot of great attributes to it," Jordan said. "But if we could combine some of the methods of Europe's beauty industry with those in U.S., we could hone it into something really great."
When he returned to the states, Jordan started working with a lab in Irving, Texas, to assemble a salve made purely from these organic remedies. To offer a brief glimpse into the otherworldliness of this concoction, one of the product's active ingredients are stem cells harvested from a special breed of apple cultivated exclusively from Switzerland. And despite its use of all-natural ingredients with no added odorizers or preservatives, Tend + Temple's skin care products still boast the same shelf life of other synthetic products.
With the help of a dermatologist friend, Jordan also managed to establish a trademark for his products, and even set up his own website. But before he could open for business, Jordan still needed another $2,000 to make the packaging for his products.
Looking for an investor, Jordan took part in the CREATE competition. And after sharing his aspirations with the judges, CREATE not only gave him all the financial backing he needed, they also invited him back to learn more about his company.
As Tend + Temple takes its first bold steps into the beauty industry, Jordan holds high hopes for the future of his company.
"I want to build Tend + Temple into a telehealth network where we can bridge the gap of the disparities in the rural and urban areas of America to give access to dermatology care to those who have little to no insurance for that sort of help," Jordan said.
With this network, Jordan hopes to help kids from poorer communities by diagnosing and treating the same skin conditions that he suffered through during his grade school years.
Like many industry pioneers, these veteran students combined their unique experiences with their higher education to push forth a new wave of invention and innovation for the American enterprise. And whether they were looking for help with every facet and angle of starting their own company, or just needed that last push to make it across the finish line, CREATE provided them with everything they needed to make their dreams a reality.
To learn more about Animal Cloud Device Connectivity, you can listen to the team's podcast.
To learn more about Tend + Temple, visit the company's website here.