Heading into his senior year, the TCU Co-Ed Running Club president is on track for a return to Boston in 2023 while making strides to build a campus community for runners.
June 03, 2022
By Rachel Stowe Master
When Jake Bettencourt left the TCU cross country and track teams at the end of his sophomore year, he wasn't ready to hang up his running shoes. A friend suggested they try a marathon and shoot for the iconic Boston Marathon.
"Running is my passion. I just love it, and I needed something to do, so I said, 'Let's do it,'" said Bettencourt, a senior marketing major from Aledo, Texas.
One of the six World Marathon Majors and the oldest annual marathon, dating back to 1897, Boston is a qualified race — meaning runners must first log a qualifying time in another marathon. For Bettencourt's age and gender, the magic number was under 3 hours.
After about four months of training, Bettencourt competed in his first marathon — the East Canyon Marathon in Morgan, Utah — in September 2021. His swift 2:48:55 won the marathon and qualified for Boston.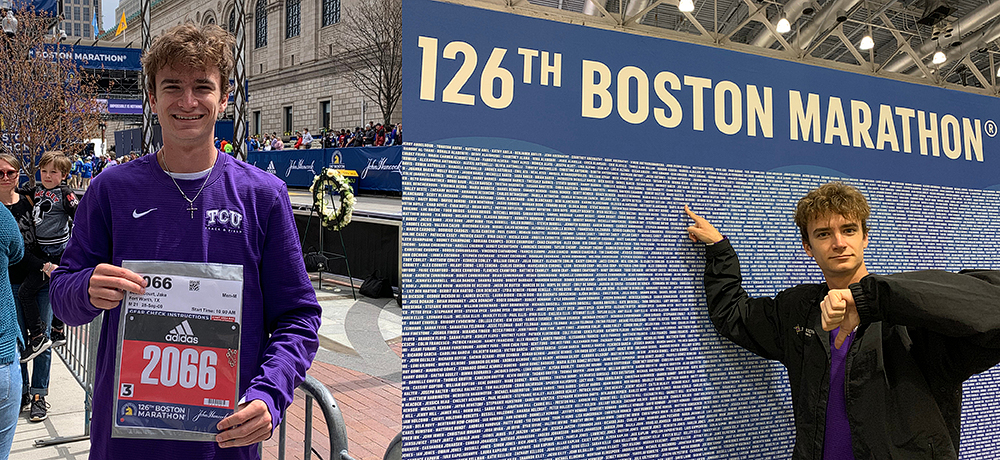 Back on campus, he co-founded the TCU Co-Ed Running Club with DJ Sauer '22 and Sadie Oakley '21. Club members met twice a week to run in community.
"After I left the cross country team, I still really valued that team aspect of running. I think running is 95% mental. If you can get out there with someone, then you're going to be so much better. So the motivation was just to run with people and give other students a new place to have community," Bettencourt said.
While helping get the running club on its feet, Bettencourt trained for Boston.
"I've been running since seventh grade, and the training for this was probably the most intense I've ever done. Toward the end of training, I was running about 70 miles a week. But I always took one day off a week when I would sleep in and not even think about running. That was more for my mental health than anything," he said.
Race day was April 18, 2022, with some 30,000 runners from around the world on a 26.2 mile course lined with hundreds of thousands of cheering fans — including his parents, who were staked out at the finish line.
"There's nothing quite like it. I've run in other big races, but it's hard to comprehend how many people are at the Boston Marathon. As soon as I crossed the start line, I looked up from my watch and this two-lane street was just filled with people as far as I could see. I've never been around that many people," Bettencourt said.
That start is something he will always remember.
"I had been training for months, and finally standing there on the start line, I almost cried. It was this surreal moment, the pinnacle of training, like everything I had been doing for 10 years led to this moment. It was so special," he said. 
Bettencourt's finish time was 2:49:59.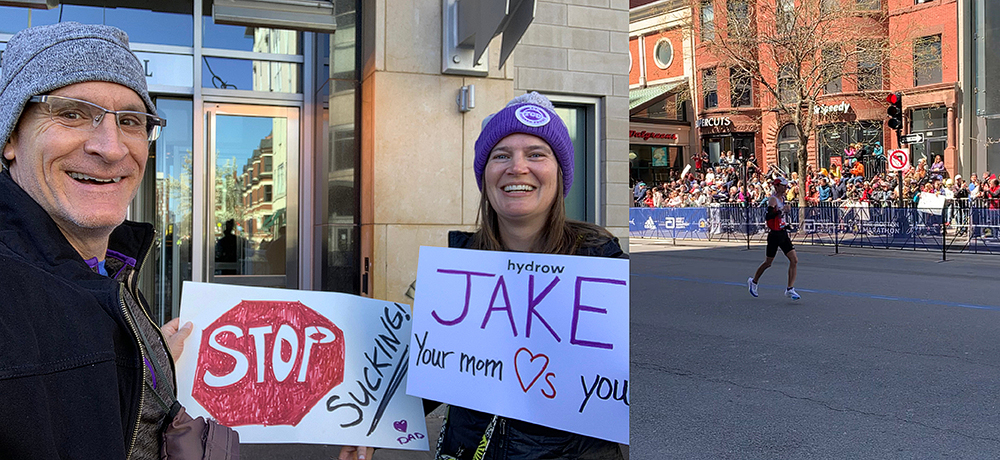 "My goal for that day was 2:40, but there are some very intense hills that sneak up on you. I really want to go back next year with the experience of knowing what it's like and hopefully beat my time," he said.
With his 2022 time, Bettencourt is prequalified for the 2023 Boston Marathon. In addition to training, he will continue building the running club as president.
"I want to see us have 30 people at our meetings and have different pacing groups. I hope to see it take off and that it continues after I graduate — that's the real goal," he said.
Bettencourt was originally inspired to start running by his dad, Lance Bettencourt, associate professor of professional practice in marketing at the TCU Neeley School of Business, who also sparked his love of marketing.
"My father did a lot of consulting work in between teaching. I was always interested in the psychology part of it — like why do people do what they do? So I took some marketing classes to see what it was like, and I really enjoy it," Bettencourt said.
Relationships with professors have been the highlight of his TCU Neeley experience.
"The professors have been so fantastic and so open to providing Neeley students with opportunities and connections. Neeley has shown me that you can get close to professors and be friends with them after the class ends. You can see them in the hallway and have friendly conversations about things that aren't even related to class. That makes you feel welcome at Neeley and on campus in general," he said. 
This summer, Bettencourt, who works as a student assistant in the TCU Neeley Dean's Office during the school year, is serving an internship with Sewell Automotive Companies in Fort Worth. After a brief break from running, he will soon be pounding the pavement again and encouraging others to join in — no matter what their pace.
"I think anybody can be a runner. If you believe you can do it, then there's nothing holding you back. When I started running in seventh grade, I would cry running 1 mile. I never thought I would run a whole marathon, much less win one and qualify for Boston. There is no limit to what you can do with running," he said.