"Anytime there's disruption, there's opportunity," said Entrepreneur-In-Residence Michael Sherrod. "This class took advantage of the disruption of COVID to create some interesting companies."
November 24, 2020
By Mariana Rivas
Michael Sherrod, the William M. Dickey Entrepreneur-in-Residence has seen many interesting and profitable business come about from his venture ideas class.  Although this was his first time teaching the entrepreneurship class during a pandemic, TCU MBAs continued to deliver viable business ideas.
Some ideas the MBAs pitched for the Fall 2020 semester are a vintage clothing store and a new hot sauce. Some, like custom tanning at home and gift boxes for zoom calls. have found inspiration from today's pain points.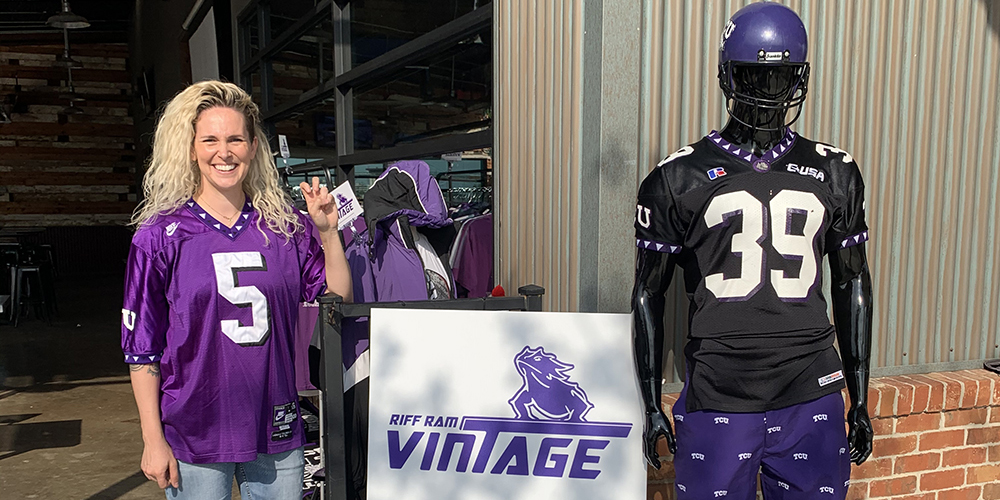 The MBAs started with a pitch before building business models and launching their product or service to the public. But the ultimate requirement of the class is that each student's business make money by the end of the semester.
"The first time I taught it I really had no idea if it would work," Sherrod said. But eventually everyone made money by the end of the undergraduate version of the course. Since then his classes have been met with equal success: the least amount of money a student has made was $22.46 and the most was $217,000.
Three students have already achieved this milestone before the end of the semester.
Lindsey Dixon turned a fashion preference into the profitable business, Riff Ram Vintage.
Renzo Peralta and Tuan Nguyen stared Pola Foods Creamy Hot Sauce based on a Peruvian recipe.
Kenzie Floyd focused on in-home tanning with Glow Getter, a custom tanning service that comes to your home. The various blends and kinds of tans can be matched to skin tone, skin type, and even the kind of event. For instance, a wedding tan is different from a job-interview tan.
Andrew Hicks, Alejandro Velasquez and Ryan Edwards founded Box Out, custom boxes delivered to participants in virtual platforms, such as "The Coffee Meeting" with canned cold brew, biscotti and a branded company coffee mug; "The Vacay," which includes an eBook, sunscreen and Yeti mug; and "The Toast" with champagne flute, mini champagne or sparkling cider, and dark chocolate-covered apricots.
Dixon founded Riff Ram Vintage because she was frustrated by the small number of stores available to buy TCU clothes.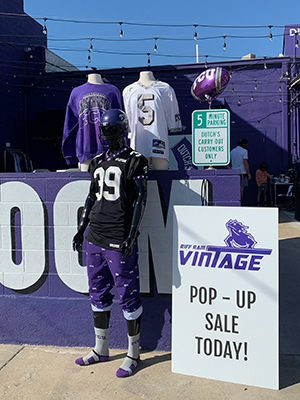 "I like to be kind of different and edgy, and not wear the same thing as everybody else," she said.
Dixon began to collect vintage TCU gear from estate sales in an effort to stand apart.
"Every time I wore something, I would get a million compliments on it asking where'd I get that, how did I find it," she said.
Enrolling in venture ideas for the Fall 2020 semester seemed like the perfect opportunity to see if this was something she could turn into a business.
"The hardest part is getting going, and my brain especially has a tendency to overanalyze," said Dixon. "This class was the swift kick in the pants I needed to stop overthinking, stop fearing the possibility of failure, rip off the band-aid and go."
Sherrod's experience as an entrepreneur for more than 40 years served as a resource for Dixon and her classmates. His advice was "instrumental in kind of knowing which decisions to make when, especially when first starting out," Dixon said.
It has worked out in her favor that her business is all on social media, given today's climate, she said. She has also turned to hosting outdoor and socially distanced pop-ups to ensure her customer's safety.
Dixon said she hopes she can take what's she's learned from Sherrod and other business professors to become a serial entrepreneur.
"It's helped me realize that where I get excited and draw energy from is having great ideas and creating new things that don't already exist, and getting other people equally excited about them," Dixon said.