Rachael Haugh and Sarah Goldberg are featured in an exclusive list that honors 100 of the most accomplished seniors majoring in business in the United States.
April 14, 2020
By Elaine Cole
Seniors Rachael Haugh and Sarah Goldberg are featured in Poets&Quants 2020 Best & Brightest Business Majors among students from the top business schools in the country. The TCU Neeley seniors are singled out for their academic excellence, extracurricular leadership, character, potential, striking personal narrative and overall impact at TCU.
Haugh and Goldberg are featured in profiles discussing their proudest achievements, favorite professors, lessons learned, advice and more.
"After every upheaval, some people step up to drive recovery and restoration. Make no mistake: this class will be the one who rise to these demands. They will be the catalysts who inspire action, the innovators who unleash talent, and the dreamers who scrap their vision into reality. They may miss the pomp and circumstance, but their best moments have yet to come," writes Jeff Schmitt, Poets&Quants' senior writer.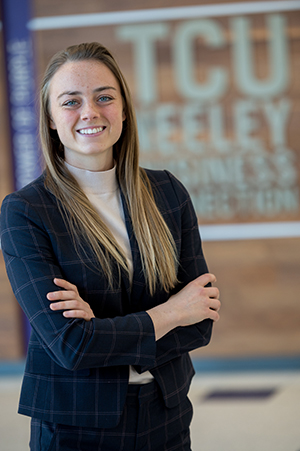 Haugh is a double major in Business Information Systems and Supply Chain Management, and a BNSF Neeley Leader, LeaderKids mentor, University Life peer guide and manager for TCU Women's Basketball. She counts Dr. Mary Uhl-Bien, the BNSF Endowed Professor in Leadership, as her favorite professor. "She created a space where I felt empowered and eagerly anticipated her class each day. She is a role model for me, and I truly believe there is no question in which Dr. Uhl-Bien would not have the right answer,"' Haugh said. 
Haugh interned at Dell Technologies in Austin, Texas, and has a job waiting for her there upon graduation. "Technology is one of the most powerful conduits for bringing positive change, and I admire the innovative spirit the company embraces to live out its vision," she said. 
Read Haugh's article here: https://poetsandquantsforundergrads.com/2020/04/04/2020-best-brightest-rachael-haugh-texas-christian-university-neeley/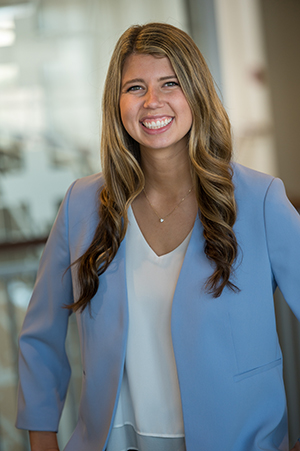 Goldberg is a double major in finance and political science and a member of Neeley Fellows, TCU Educational Investment Fund, Student Government Association, Chancellor's Scholar, Club triathlon and soccer teams, and TCU Student Body Director of Mental Health and Wellness. "From an early age, I have valued having a team. At TCU my team has been the Neeley Fellows honors program. They provided a community of people who were not only willing to stand behind me but propel me forward. Students, faculty and staff, I am a product of their hard work, sacrifices and encouragement."
The biggest lesson she gained from studying business is that "there is so much more to it than a P&L. Done ethically, business has the power to change lives." Goldberg interned at Baird in Milwaukee and will return there for a career after graduating in May. 
Read Goldberg's article here: https://poetsandquantsforundergrads.com/2020/04/04/2020-best-brightest-sarah-goldberg-texas-christian-university-neeley/.