The Ralph Lowe Energy Institute seeks to prepare students for the future of energy.
June 27, 2022
By Sheryl Jean, TCU Magazine
Tejal "TK" Kshatriya knows that many rural residents in her native India still use dry cow dung for cooking fuel because they lack adequate power supplies. She also knows that energy accessibility and affordability issues exist in the United States.
As a TCU Energy MBA student, Kshatriya is learning how to reduce both types of energy poverty, a term meaning when people lack access to reliable, affordable energy to meet basic household needs.
"There's so much to learn," she said, "that I'm just scratching the surface."
The university created the original TCU Energy Institute 15 years ago after the discovery of oil and gas in Texas shale. In 2021 it was renamed the Ralph Lowe Energy Institute at the TCU Neeley School of Business. Its goal is to generate a steady stream of industry leaders and research.
Today, the institute is pivoting toward a broader mission and curriculum to better prepare students — and the organizations they belong to — as the energy field expands to include renewable and sustainable power sources such as wind and solar.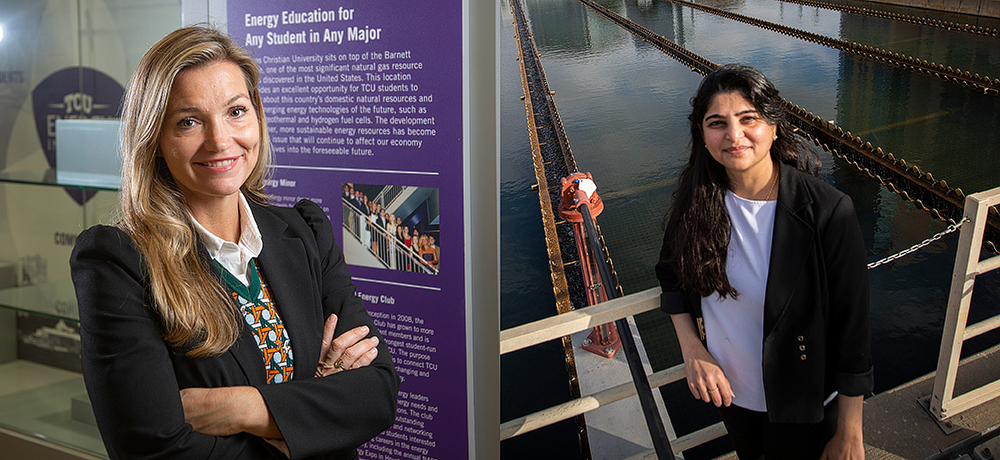 "We're in the midst of a critical transition in one of the largest commodity markets in the world — and talking about how this affects access to energy," said Ann Bluntzer, executive director of the institute who developed the Energy MBA program. "We will need more energy, all types: fossil fuels, renewables, nuclear and hopefully new technologies that haven't been invented yet in order to move to a clean energy future."
Bluntzer, an associate professor of professional practice in the management and leadership department, said she wants to "lead conversations as to how we, as a business school, can effect positive change for people directly related to energy."
In addition to its Energy MBA, the institute offers a nine-month graduate energy certificate program and an undergraduate minor. As of fall 2021, the institute was home to 120 energy graduate, certificate and undergraduate students.
Bluntzer is leading an expansion of the curriculum to address energy poverty, climate and other broad topics. The school recently added a second certificate focused on sustainability and environmental and social governance (ESG).
Last year, the institute moved from the College of Science & Engineering to the business school. "The Neeley School of Business, along with our Energy Advisory Board," Bluntzer said, "is able to provide the necessary leadership to help solve the most critical issues facing the energy industry due to our legacy relationships with some of the most innovative energy companies in the world."
Read the full article on the TCU Magazine website here.